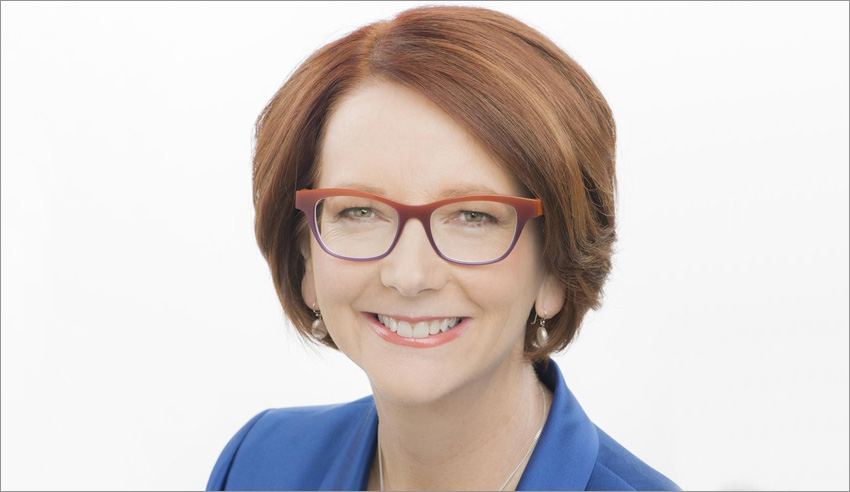 While COVID-19 seemingly opens the door for parity in legal workplaces, the former PM is worried there may actually be setbacks.
Speaking virtually on Monday, 8 March 2021, at an International Women's Day breakfast hosted by legal practice management software provider LEAP, former Australian prime minister Julia Gillard said that the past year has allowed the marketplace to "re-imagine the world of work" in ways that are far more gender-sensitive, and thus, gender-equal.
In law, for example, employers will have the capacity, she said, to "mix the online environment with in-person collaboration".
However, Ms Gillard qualified, the profession will have to be "pretty thoughtful" about what happens next. She said she is "very concerned" about the possibility of exacerbated inequality that indirectly arises from allowing employees to work from home if they so wish.
"I am very concerned that, in five years' time, we will wake up and find that, disproportionately, men have chosen to go into the office, while disproportionately, women – particularly women with young families – have chosen to work from home. And unless there are purposeful structures in place, that means that the men will be incredibly visible when it comes to promotion time or training opportunity time, and the women will be invisible," she espoused.
"[If that happens], we'll all be saying to ourselves that we thought this was going to be good for gender equality, but it's actually set us back."
Structures and stereotypes
MS Gillard acknowledged that many law firms across the board operate strong training and mentoring programs for women, which are excellent and much-needed. But what is holding female lawyers back, she added, are not internal problems necessarily – they are structural systems and stereotypes with which we engage.
"Law firms, of course, have done all of the obvious things. When I was a young person, at first, getting a job at a law firm, it was very common for young women who were looking for an article clerk position to be confronted with an all-male interviewing panel of three, four, five, even six male partners. No one would do that anymore," she mused.
"But we still see a big drop-off of women at senior levels. What's going on with that? I would say that there are structural things, in that we have still not worked out – as well as we need to – the best ways of balancing work and family life in law firms. Research shows that if family friendly flexibilities are used by everyone, both men and women, then no one pays a price for using them. If there are flexibilities that are only used by women, that track that doesn't lead to the same kind of promotion."
The second arm to achieving parity, Ms Gillard continued, is overcoming stereotypes, and what she called "gendered whispers that speak in the backs of our brains", pertaining to what we associate with males, females and leadership.
"Fifty years ago, it was very common for people to say that women were less intelligent than men. People don't say that anymore. But we still expect men to be commanding, to be ambitious for self and we expect women to be empathetic, to be nurturing, to be ambitious for others. As long as we are looking at the world with those stereotypes whispering in the back of our brains, it is very easy for us to all say that leading positions are ones where we are looking for a set of characteristics, which women are less likely to have," she explained.
"However, if you look at contemporary leadership research, it tells you that good leaders have self-doubt, are prepared to ask themselves tough questions and rely on experts and build a high-performance team. These are the ways in which we routinely see women aligned."
As such, a revolution of sorts is needed in workplaces, Ms Gillard surmised, regarding how we see merit, the characteristics for promotion, and how we view such professionals outside the prism of gender stereotyping, together with consideration for a balance with family life.
"If we do that over the years to come, as we build back from this pandemic, then I genuinely believe we will be in a world which is much more [equitable]," she argued.
Other steps to take
While the legal profession moves to address these two primary issues, Ms Gillard noted that individuals will still have to navigate their way through the world as it currently stands – something she said can be "rough".
"I know that you can be dismissed, you can be demeaned, you can be looked at and criticised in very gendered ways," she reflected.
There is no magical solution, she said, but there are some steps that can be taken that can and will make a difference. For her, she noted, having a clear sense of purpose has been essential.
"When I was prime minister, I even went to the extent of writing down on a sheet of paper my purpose as prime minister for the purpose of the government that I led. And I kept that sheet of paper with me, I read and read it on the most difficult of days where you were really getting buffeted around by contemporary events and it steadied me," she recalled.
It is also critical, Ms Gillard continued, to nurture one's sense of self.
"None of us is immune to criticism and none of us should be immune to criticism. If there are people in our lives that are offering constructive criticism that can help us get better at what we do, then we should be all ears for that because it can help shape us for the future," she said.
"You don't have to be in a publicly exposed profession like politics to cop criticism, to even see it on social media about yourself. You've got to have a sense of self that is less connected to external events and more genuinely internal than that."
Finally, she suggested coming together to produce change, overcoming what she referred to as the politics of scarcity – something, she said, that exists in law firms as much as it does in political circles.
"Women have been coming from the outside into what have been traditionally male dominated spaces, including law firms. We tend to still have a number of women in a cabinet in the Australian parliament, smaller number of women on corporate boards or in senior management, and smaller number of women in the partnership ranks of a law firm," she said.
"When that happens, it can be pretty easy for us as women to think to ourselves that if we want to be in that room, then our way in is to replace one of the women who is currently there, thereby succumbing to the politics of scarcity. Now, this isn't their fault, but it is our problem if what it generates is a set of competitive behaviours amongst women.
"And so, I would say to all women, one of the self-disciplines [we must implement is that] we can't wish all competition out of workplaces or out the world in general, but we can identify when we are being artificially pitted against each other. And instead of a woman contending against a woman, we can come together and say, how do we change the rules of this game so women are getting a fair share of the spots that should be there?"
Why men must help
Elsewhere, Ms Gillard recognised that, often, the broader conversation about gender equality at work hasn't been as inviting to men as perhaps it should be. Such inclusion is especially pertinent, she noted, given that research "clearly shows" that men have a significant role to play in overcoming longstanding inequality.
"Men still disproportionately have their hands on the levers of power. So, if men aren't working in the interest of gender equality, we're not going to get the job done. Research shows that if a man points out unequal treatment, he will be very seriously listened to, because he won't be seen as having any conflict of interest in pointing out the sexism and misogyny," she said.
"[Men] can be hugely effective advocates for change. I urge you to do that."
At the same event, Ms Gillard offered tips to emerging female legal professionals in what she describes as an "extraordinary time" to be establishing one's self in law.
Are you looking to launch your own practice but not sure where to start? Lawyers Weekly's Boutique Law Summit returns to Sydney this month, designed for individuals who are looking to maximise their competitive edge in a post-pandemic marketplace. The event will be held on Friday, 26 March at the Four Seasons Hotel with a full agenda available to view here. To learn more about the event, click here.