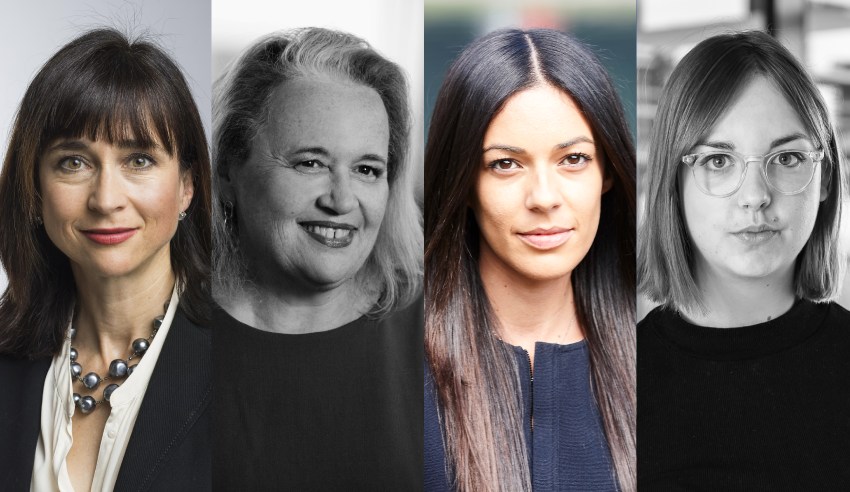 Despite those entering the profession being primarily female, there is still a decreasing number of women at a more senior level in law.
Following the release of the fifth annual National Profile of Solicitors report, Lawyers Weekly spoke to four women in the profession on what more can be done to ensure female lawyers make it to senior legal positions.
As previously reported by Lawyers Weekly, women now make up the majority of solicitors in the country. For the first time in the report's history, there is a greater proportion of female solicitors across all states and territories.
However, 13 per cent of all male practitioners are aged 65 years or older, compared to just 2 per cent of females in the profession, indicating that women are leaving law much earlier.
Danielle Kelly, head of diversity and inclusion at Herbert Smith Freehills, said these statistics were cause to question if the "status quo is merit-based" or not.
"There are many factors that feed into the under-representation of women in the partnership and these include the structure of the legal profession and the typical timing for promotion to partnership, anachronistic views about "how work is done" such that there can be an over-reliance on facetime and being available 24/7 – and related to this, the fact that some in the profession still view flexible work as the exception rather than the rule — such that many women (and some men) feel that they must choose between family and work," she said.
"The factors underlying the under-representation of women at more senior levels in the profession compared to lower levels in the profession are complex and require adaptive thinking by law firm leaders in order to address the systemic and structural barriers which exist."
In addition to women traditionally taking on major family caring roles, Gillian Davidson, partner at Sparke Helmore, said that there are a number of other reasons there are fewer women in senior legal positions, despite females making up two-thirds of those entering the profession since 2011.
"The commercial and legal world remains challenging in its response and capacity to ensure that women continue to have flexible, inclusive opportunities to build their career. These opportunities must include networking, mentoring, and genuine collaboration," she said.
"However, the last 18 months has seen that dynamic shift positively for many; organisations and teams are now establishing ways of working together that better complement our lives rather than compete against it – and this is something leaders must nurture to avoid going backwards."
While there has been a recent push for gender equality in the profession, Mia Pantechis, principal lawyer at Maurice Blackburn, said that more work is needed at the top. 
"While there has been a push for gender equality in the profession, impediments which have impacted the retention and advancement of women have included rigid and inflexible ways of assessing performance, ineffective flexible work practices and the low uptake of flexibility or parental leave benefits by men.
"There has also been a failure to address the prevalence of sexual harassment in the profession, which along with other cultural and systemic issues, has contributed to women exiting the profession at early stages in their careers and therefore hindered career progression," she said.
"At the same time, gender inequality and the underrepresentation of women in leadership positions are well recognised drivers of sexual harassment in workplaces, including within the law."
Lawyers Weekly 30 under 30 intellectual property winner and Gilbert + Tobin lawyer, Claudia Lewis, agreed that there is a "lagging indicator with women reaching senior roles" – in many industries across the country, including law.
"There is clearly a problem with women getting into and staying in senior positions across the board, so it is not something I think is unique to the legal profession," she said.  
"Overall, I think Australia has a long way to go in setting policies that promote women staying engaged with the workforce throughout their lives: for example, childcare subsidies and parental leave."
Ms Lewis added that particularly in corporate law, it is imperative for young female lawyers to have support from those who matter.
"It is critical that young female lawyers have access to mentoring from senior lawyers and partners (female and male) who can give advice and advocate for them at the toughest points in their careers," she said.
"Encouraging young women to stay in the profession requires everyone from the top down to directly address cultures that do not serve women, and behaviours that stifle confidence, diversity and self-expression. Everyone needs to be an ally – some of my most fearless advocates at G+T are senior male partners who believe in affirming the position of young women lawyers at the front."
To ensure young female lawyers do stay in the profession, firms must "genuinely commit" to gender diversity and pay equity initiatives, Ms Pantechis added.
"It is critical that firms encourage and promote equal access to flexible work practices and parental leave to reduce any 'motherhood penalty' impacting the advancement of women," she said.  
"The pandemic has accelerated progress on this front, as it has proven flexible work is effective and productive and has removed some of the stigma previously attached to flexible work arrangements."
Sparkes has a diversity and inclusion advisory committee, which Ms Davidson said was an important part of keeping gender equity front of mind – something that is "paramount" for firms.  
"The presence of visible and active role models, sponsors and champions, of all gender identities is also key to opening dialogue, unearthing challenges and ultimately informing action. Having measurable goals which leaders are accountable for is also an important test of commitment and often requires specific actions to achieve them," she said.
"For Sparkes, our 'Six Degrees' gender network has been in place for over 10 years and remains a key initiative for us. We know that our people are the experts in their own experiences, therefore the network continues to be an important voice in understanding what is working well for our people, but also the challenges they face – especially as we navigate ongoing change."
Ms Kelly added that she believes many firms in Australia are heading the right way in terms of gender equity, with HSF focused on eight key areas: gender targets, role modelling, sponsorship, agile work, inclusive leadership (including addressing unconscious bias), parental leave, allyship, and accountability. The firm has also made flexible working the norm for all staff, implementing a policy wherein employees work in the office 60 per cent of their time.
"In 2019, we set a 35 per cent gender target by 2023 for the proportion of women in our global partnership. Targets shine a light on the issue and help drive accountability, as well as providing a benchmark against which to measure progress," she said.
"We remain focused on addressing potential unconscious bias in key HR processes such as recruitment, talent assessment, promotion decision and remuneration. Taking the time to understand the impact of bias and then considering practical techniques to counteract bias is a key capability of an inclusive leader.
"We are also conscious that when organisations see more men taking advantage of paid parental leave, it benefits women. This makes it even more important that workplaces adapt to ensure that people are supported to return successfully to work after parental leave. Our parental leave policy provides for 18 weeks full pay for any eligible parent, regardless of gender. Moreover, parental leave can be taken flexibly so as to better suit the needs of the family," Ms Kelly added.
Maurice Blackburn has also implemented flexible working arrangements to benefit their staff, which Ms Pantechis said were "are important steps in addressing gender equity in leadership, pay and flexible work arrangements".
"[We've] implemented an array of initiatives that are directed at gender parity in the workplace, including measures to reduce any gender pay gaps by having consistent and transparent classification structures for comparable roles, supporting men and women to access full primary carer paid parental leave benefits, empowering more than 70 per cent of the workforce to access extensive flexible work arrangements, and ensuring that at least one woman at the same or senior level to the hiring manager is involved in interview panels for talent sourcing," she said.
"I believe progress has been made as more firms have been implementing gender parity initiatives, but there is still a lot of work to be done to ensure these initiatives create meaningful and lasting change which alters the current trend and results in women having equal opportunities to advance in the law."
Nonetheless, as more firms embrace gender equity initiatives, embedded practices are being further disrupted, something which Ms Lewis said was encouraging to see moving forward.
"I believe that when firms wholeheartedly promote diversity and equity by their actions and in their culture, we are all better off. There is a lot of upside and not a lot of downsides in breaking out of stale traditions and entrenched workplace cultures that don't serve us. It's impossible to be at the leading edge of anything if everyone around you is saying and doing the same thing," she said.
"I'm lucky to be part of a cohort of strong women in IP at G+T from senior partners to junior lawyers who advocate for and support each other professionally and personally."
In her career, Ms Kelly said she has seen an "immense" amount of positive change in the profession – but said that gender diversity at the partner level needs to remain at the forefront of the discussion.
"Between 2014 and 2021, the percentage of women in our Australian partnership has risen from 20 per cent to 32 per cent, and globally we have seen the number of women in the partnership increase by over 67 per cent. It is reassuring to see these changes, but we must keep working to achieve greater gender equality.
"We can't overlook the fact that, across the legal profession, there is this stark contrast between the numbers of women at the senior associate level and in partnership. It's an issue that all firms must address to ensure that talented women who have the ambition for partnership aren't being overlooked," she said.
"As an industry, I think there are tremendous opportunities to collaborate and to share knowledge and learnings — including with clients — so that collectively we can cause a fundamental shift towards better gender diversity at the partner level."