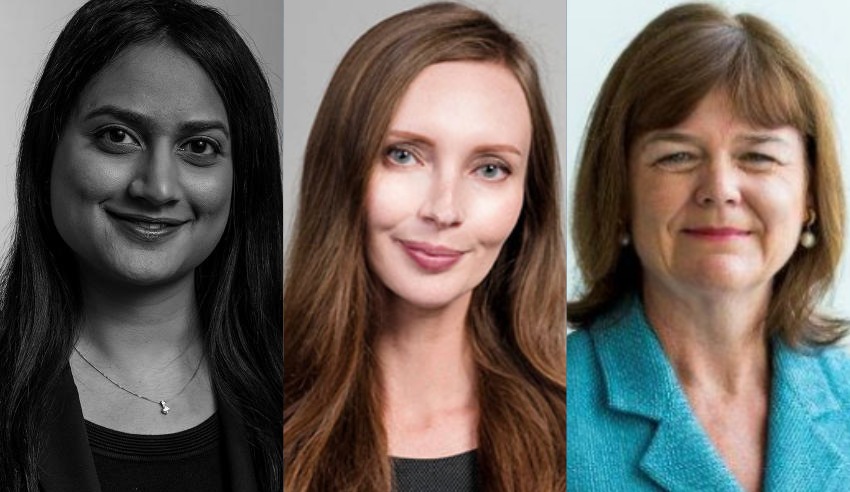 Flexible working has become more prominent than ever post-pandemic. But while it may work for some, firms should consider the drawbacks of employees working remotely. 
Malika Chandrasegaran, partner at Herbert Smith Freehills, Dr Alice Orchiston, a Unisearch expert at the faculty of law and justice at UNSW, and Professor Pamela Hanrahan, a Unisearch expert and professor at the faculty of business at UNSW spoke recently on The Lawyers Weekly Show (on an episode produced in collaboration with Unisearch) about the rise of flexible working arrangements post-pandemic – and what employers need to be aware of moving forward. 
In addition to discussing the importance of honest and open communication post-pandemic and a number of other trends to be aware of, the trio agreed that flexible working was one of the main factors employers needed to consider when planning for the future.
Professor Hanrahan said that there were a number of positives that had come out of the rise of flexible working in the last year.
"It has given us an opportunity to have a little bit more control. And we know that people who have more control over their working life have better outcomes and are happier," she said.
"The thing that's really struck me over the last 12 months though, is that as we've got used to working remotely, it's really opened up opportunities to collaborate with the rest of the profession in a different way."
She added that the more online activities and interaction there are, the more opportunities there are for lawyers to continue to learn and educate themselves.
"I think as we've got used to attending webinars, or listening to podcasts, or being out and about, it gives people an opportunity to participate in things across the whole profession in a way that maybe was more difficult in the past," Professor Hanrahan added.  
"I think now you can participate in a lot more of those types of activities remotely and that's been a really positive thing."
HSF is one of the many firms that has adopted a hybrid working model, with Ms Chandrasegaran and her team currently in the office on Tuesdays, Thursdays, and one other day during the week.
"There's really no one size that fits all. And I think that there's been a number of very interesting and different practises that have emerged.
"What we've decided going forward is we've implemented an agile 60 policy for basically post-pandemic operations. And so that's a benchmark that people will work in the office for an average of 60 per cent of their working time," she said.
"Now that's just an average, and the idea behind it is to give people the flexibility to really design a working pattern that suits them, suits the teams, and suits clients. And some may be in the office more and some may be in the office less, and during critical phases, you might be in the office more."
However, there are certainly negatives to increased flexibility too. Dr Orchiston said that flexible and remote working may work for some but not others.
"Population-wide we've seen an increase in depression and anxiety. The changed working conditions are now having an impact on people's family and personal lives. And there's also this blurring between work and home, which is probably an unprecedented level for many people," she said.
"So, that's having an impact, but also things like losing some of those connections that we have with people; the informal connections that we have when we bump into people in the corridor or in the office.
"For some people that can result in feeling quite isolated and disconnected from their team. So, it is really important to develop good strategies to manage that. In addition to that, we're seeing that there's been a rise in musculoskeletal injuries in the workplace, from people having less than ideal working from home setups," Dr Orchiston added.
"And that's something I think that's only going to increase as this sort of continues. So whilst we have to appreciate it as being this really wonderful upswing in the use of flexible working arrangements, with people having more flexibility and being able to work from home; sometimes being forced to work from home, there's also things that need to be managed and that means both the psychological health of employees, but also the physical health and safety that comes with working now in different ways."
Professor Hanrahan added that in addition to not having an adequate working from home set-up, navigating how to keep your home-life and work-life separated was another key challenge of remote working.
"I think most of us have found that keeping that appropriate separation between home and work has become more challenging. I've really had to discipline myself," she said.  
"It can be very hard to remember to turn off when we have to. So, I think there've been positives and negatives that we have to be careful of."
Ms Chandrasegaran added that despite the positives and the negatives, it all comes down to striking the right balance and figuring out what works best for you and your employees.
"I think that at the end of the day, it's really about finding that balance. We know that so many of our people greatly value flexibility on how and where we work. It's given people more time for family, for health, for other commitments. But equally the office will remain an important place for connection and collaboration with clients and with each other," she said.
"So, I think it's really that hybrid approach that we see working well. And I think that's lots of different models and this is obviously a learning process, and we'll learn and grow as time goes on as well."
The transcript of this podcast episode was slightly edited for publishing purposes. To listen to the full conversation with Malika Chandrasegaran, Alice Orchiston and Pamela Hanrahan click below: