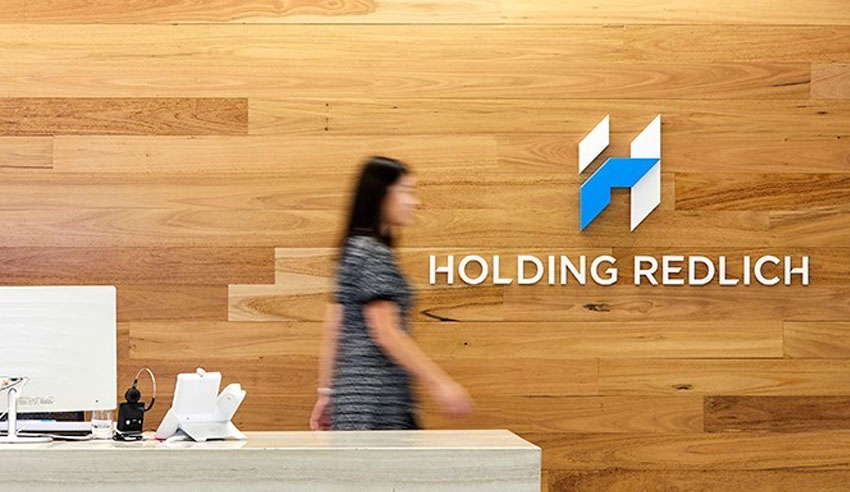 National law firm Holding Redlich has promoted 46 lawyers across the country, including four to the partnership.
Editor's note: An earlier version of this story noted that the firm had elevated 45 lawyers, not 46. 
Holding Redlich has elevated 46 lawyers across its offices, effective from 1 July 2022. The firm now has four new partners, five new special counsel, 14 new senior associates, and 23 new associates.
Lachlan Ingram, Duncan Myers, and William Kontaxis have been promoted to partner at Holding Redlich, as well as Elly Ashley, who started her career as a summer clerk with Holding Redlich.
In addition, Rose Dimitrious, Amanda Tucker, Joshua Fetherstonhaugh, Jessica Tsiakis and Marie-Louise Scarf have all been promoted to special counsel.
Holding Redlich's newest senior associates are Sasha de Muelenaere, Emily Davis, Megan Cumming, Marsha Klipp, Scott Colvin, Mollie Coffey, James Stedman, Victoria Fijalski, Amy Pun, Victoria Cotton, Olivia Eum, Joanne Keo, Lauren Stables and Yunsi Feng.
And finally, Grace Power, Anita Cukic, Aiyana O'Meara, Ella Rooney, Jeanette Hew, Priscilla Lu, Julie Ubbesen, Jean Lukin, Sangeetha Badya, Jack Townsend, Sam Hayward, Ella Clements, Jolene Ong, Claudia Baldwin, Janelle Moussa, Jamie Kim, Sam Darwish, Sandra Selim, Millie Clayton, Jeremy Cassrels, Lejla Kamerasevic, Brydie Hand and Simon Balales have all been promoted to associate.
Holding Redlich national managing partner Ian Robertson AO said the lawyers promoted have contributed strongly to the firm's solid growth over the last 12 months and are exemplars of its values.
"It is pleasing to see the firm continue to grow and to be able to recognise the efforts of our lawyers at all levels," he said.
"I would especially like to congratulate Lachlan, Duncan, Elly and William and welcome them to the national partnership. Each one of our new partners has built an outstanding track record of high-quality legal advice, client service and team leadership."
This news follows a number of BigLaw promotional rounds, including the promotion of 46 at Hall & Wilcox, the elevation of 48 staff at Mills Oakley, the promotion of 21 at Piper Alderman and the addition of 13 new partners at King & Wood Mallesons.