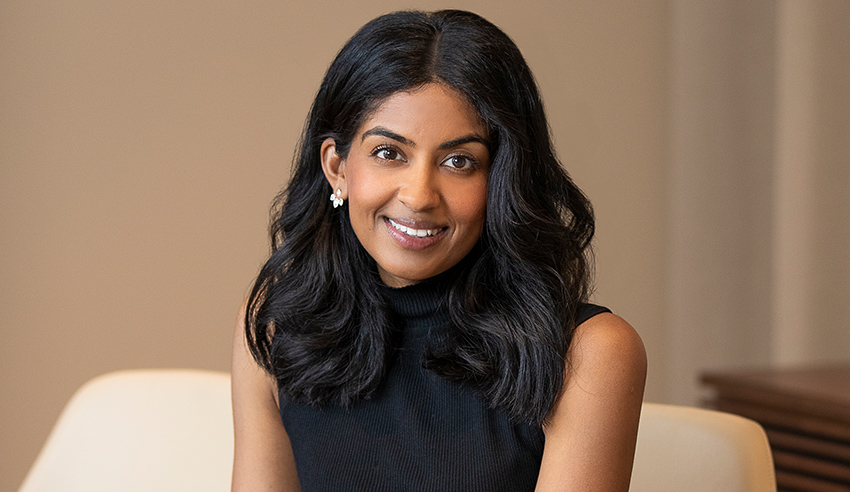 Since making partner just over one year ago, Ranjani Sundar has had a "really positive" experience. Part of why she has flourished, she says, is that she has had the right support around her, both personally and professionally.
While on maternity leave in early January, Ranjani Sundar (pictured) had the opportunity to reflect on whether joining the partnership at HFW was what she wanted for herself and her career. Ultimately, she decided that it was — that "there was no loss in throwing my hat in the ring" — and she became a partner at the global firm in April of last year.
Speaking recently on the Lawyers Weekly Show, Ms Sundar said that she has been lucky to have a "really positive experience as a partner thus far.
"[2021] was a really interesting year because we were still in the midst of COVID-19, and that created as many challenges as it did opportunities. I have a very supportive partnership, and I think partnerships in general are becoming more supportive — more supportive of women in leadership positions, more supportive of working moms," she said.
Such assistance has been essential, Ms Sundar mused, in helping her adjust to her new responsibilities, especially following her maternity leave.
"I had a couple of partners actually knock on my office door or send me an email to say, 'Hey, welcome back. If there's anything we can do to help, you need to let us know'. There were a couple of partners who actually provided me with examples of things that would've been helpful to them as new partners. So, when I was a new partner, I would've loved to have known this, so I'm just letting you know the same thing," she said.
Such generosity, she submitted, is "quite invaluable".
"We have a really nice group of partners who have been recently promoted, and I continue to take a lot of help from them. But we also have senior partners who have been doing this for several years, and having that open-door policy where you can walk into someone's office and ask them a question that is so obvious to them, but you just don't know because you haven't sat in the seat before, really makes all the difference," she said.
One lesson that is key, Ms Sundar added, is that in order to get the most out of the support out there, one cannot be afraid to ask.
"We've got to ask the questions because that's the only way we're going to learn," she said.
Taking such initiative is also critical, she went on, given how much working life has evolved in recent years.
"Even though everyone is happy to be back in the office, it's a different environment in terms of flexible working. And we definitely don't expect everyone to be in their offices all the time. The short answer [to this conundrum] is to make sure you've got people's mobile numbers. You've got to be not afraid to make the call and ask the question. I think open-door policy absolutely is becoming more of a metaphor than it is a literal thing nowadays," she added.
HFW also provides external coaches as an option for partners, Ms Sundar pointed out – which has been invaluable to her professional development.
"I work with a really good coach, Claire Bibby, and if for whatever reason one of the senior partners is not available, and I can't bounce ideas off someone who I would otherwise do, I get a lot of opportunity to speak with Claire and shoot the breeze with her as well," she said.
Ms Bibby, alongside Lara Wentworth, appeared earlier this year on The Lawyers Weekly Show discussing why lawyers need coaches, in an episode that has subsequently become one of the most downloaded of the year thus far.
"Having an external coach, I think, is so important. You can find one yourself, but if your firm facilitates that for you, I definitely encourage that avenue as well," Ms Sundar suggested.
Having the right support around you as a new partner, she continued, makes all the difference when it comes to managing the juggle of one's practice and personal responsibilities.
Said support allows one, she said, to be more proactive in their approaches to work and life.
Ms Sundar: "Claire's really good at this, because even though she's supposed to be an executive coach, she puts herself in the position of a life coach, and things like making sure you get your groceries delivered and making sure you schedule your exercise and organising times to catch up with people, and just providing those proactive measures to make sure that all of the things that you don't need to focus time and energy on are happening seamlessly so that you can then focus your time on building relationships, developing your practice, getting the work done, making sure you are available for your team, and then obviously being able to go home on time and do all the things that are important for your family.
"If we rewind back to April 2021, when I was added to the partnership, the world definitely was a very different place, and COVID-19 was very real. So, building a practice and doing the kind of business development that's expected of a new partner was really challenging because we were very shortly thereafter in a lockdown, and you could only really see people either virtually for a coffee, or otherwise those who were within your five-kilometre radius."
As such, one of the greatest challenges she faced was how she was going to do the required networking and business development and build a practice, when she couldn't engage in the traditional forms of networking, such as going out for lunches and doing seminars and meeting people face to face.
"So, I reached out to clients who were within my five-kilometre radio. I caught up with people for a walk and a coffee. I did what I could within the frameworks that we were allowed. At the time, it was a challenge, but what it really allowed me to do was to become a little bit bolder in the way that I approached contacts and networks. And it allowed me to think outside the box as to how I was going to maintain and build these relationships in a less traditional way."
The transcript of this podcast episode was slightly edited for publishing purposes. To listen to the full conversation with Ranjani Sundar, click below: