Goodbye job applications, hello dream career
Seize control of your career and design the future you deserve with
What a 100-km race taught one GC about pushing boundaries
Earlier this month, Domain general counsel Catriona McGregor completed a 100-kilometre trail run through the Blue Mountains in near-freezing conditions. The experience, she says, taught her a lot – both personally and professionally.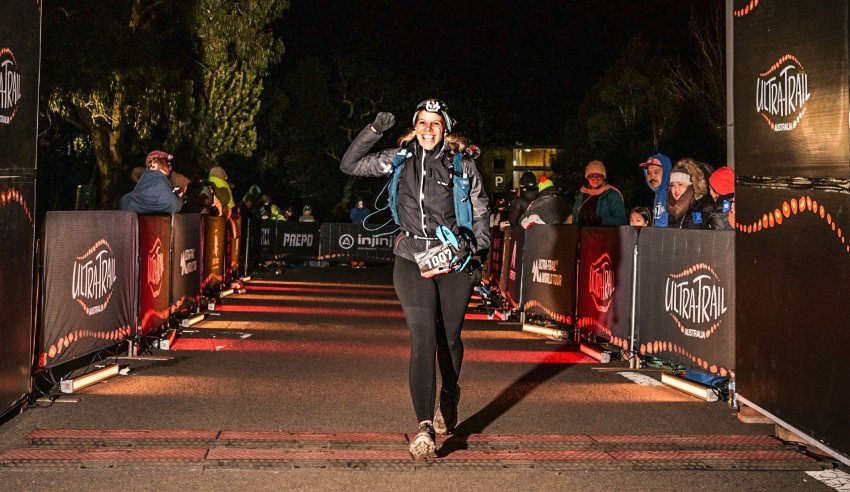 Being prepared to take a leap into the unknown, and being willing to fail in order to achieve something great, are attitudes that drive Catriona McGregor (pictured).
You're out of free articles for this month
To continue reading the rest of this article, please log in.
Create free account to get unlimited news articles and more!
A mother of seven-year-old twins and wife of a cycling addict, she herself is an avid runner – an outlet through which she is able to truly challenge herself.
Two years ago, Ms McGregor (who serves as Domain's company secretary in addition to her GC duties) completed the 50-kilometre Ultra-Trail Australia run (UTA50) in the Blue Mountains, something she wrote about for Lawyers Weekly.
While she loved that experience, and considered doing it again so she could better her previous time, she felt drawn to the 100-kilometre version – the UTA100.
"I didn't know I would be able to do it," she recalled.
"There was a real sense of pushing boundaries with the 100km. There is a certain thrill in doing something that you genuinely don't know if you can do, however it comes with fear; fear of the unknown and fear of potential failure."
Completing the trail run
As was the case in 2019, it was difficult for Ms McGregor to juggle her rigorous training with work and family commitments, as well as personal and social time.
VIEW ALL
"From a work perspective, the change in working patterns resulting from COVID-19 made it easier this time round. Domain has always had a flexible work policy but over the past year to 18 months, I have worked from home more and this flexibility meant that I could fit in a 10km run or a strength training session in the morning and still be able to make my first morning meeting at 8:30am," she detailed.
"From a family perspective, the slower pace of family life over the past year with less kids and social events, whilst unfortunate, did mean that I had fewer commitments at the weekends."
What made the routine easier for her this time, she continued, was that she felt confident she could effectively manage the juggle, as opposed to two years ago.
"The training rhythm is more familiar, the discipline has become second nature and I have got myself into a routine where I confidently know that I can commit 100 per cent to my role as GC and still be able to fit in this personal passion and my personal and family life," Ms McGregor mused.
Going into the race, she had two goals: to finish the race before the cut-off time of 28 hours (and, ideally, complete it in 18-20 hours), and also to enjoy the race experience by soaking up the atmosphere so as to remain positive.
Ultimately, she did finish the race within the allotted time, albeit not quite under 20 hours.
Lessons for GCs
When asked what she had learned about herself by virtue of completing the UTA100, both personally and professionally, Ms McGregor noted that she has a tendency to be a perfectionist, which gets coupled with a fear of being imperfect and/or failing.
"In my role as a lawyer, my perfectionist tendencies serve me well in many respects. I have great attention to detail and I am committed to seeing things through to the end," she said.
"However, as I have developed as a leader, I have realised that it, potentially, can create risk aversion and it's important that companies and legal teams are willing to take risks to grow, albeit in a considered and controlled manner."
When her UTA100 training got underway, Ms McGregor properly considered the boundaries of her own comfort zone, as a way to extrapolate her fears and what might hinder her from striving for loftier goals.
She realised, she said, that the UT50 was in her comfort zone. She felt secure in the knowledge that not only would she be able to complete it, but that she could better her previous time. Correspondingly, she became aware that she was afraid of the 100-kilometre version of the race, as she wasn't sure if she'd be able to finish it.
"The perfectionist in me saw it as a worse outcome, to get to 60km or 80km in the UTA100 and have to drop out of the race at that point than to just bag my medal in the shorter 50KM race," she recounted.
"Once I was willing to accept that maybe I wouldn't achieve the 100KM distance and that would still be okay, I was able to take the leap and give it a good go. In being willing to take a risk and potentially risk failing, I expanded my comfort zone and suddenly, 100km seemed achievable. I stood on the start line confident that I would be able to finish the race.
"Once I had set my mind to the bigger goal, I was then able to unleash all my perfectionism on my training, nutrition planning, checkpoint preparation, etc.,"
Such personal teachings are critical for general counsel, Ms McGregor noted, given that the role of GCs, and the business environments in which they operate, is never static.
"It's forever changing and we need to be able to change with it to most effectively support our business goals. For that reason, I think it's important that GCs can operate and thrive in new situations and be willing to step out of their comfort zone to explore possibilities where the end point is not necessarily clear or the pathway has not been previously trodden," she argued.
"As Domain is focused on growth, we are constantly seeking out new opportunities and pushing boundaries. I think that is one of the reasons that I love my role so much because it is constantly presenting new challenges."
Reflections
Looking ahead, Ms McGregor has her eye on an ultramarathon in New Zealand – the 102-kilometre Tarawera event – which is taking place next February. She is also keen on dipping her toes into adventure racing, combining running, mountain biking and kayaking, as a shake-up to the more traditional triathlon and to keep things interesting for herself.
While she wouldn't say that legal professionals need to complete ultramarathons in order to meaningfully challenge themselves, she did say that they should feel encouraged to set a goal they think they can achieve, and then look to "push it that little bit further" – especially those who think they could not do what she has recently completed.
"I think we're all capable of achieving incredible things, we just need to give ourselves the permission to push a little further and take the risk that we might not always land the goal every time," she concluded.
Catriona McGregor is speaking at the upcoming 2021 Corporate Counsel Summit. To learn more about this event, click here.