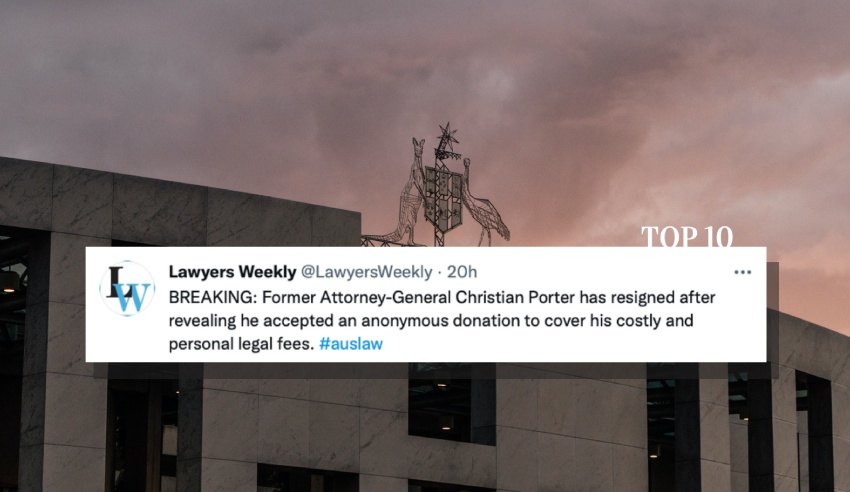 In this fortnightly wrap-up, Protégé brings law students, graduates, and new lawyers the top news that they should be aware of. This time, it includes another update on Christian Porter, an important look into mental health, and the "next normal". 
1: Former A-G Christian Porter resigns from front bench
Kicking off this wrap-up with the most recent (and arguably biggest) news of the fortnight: former attorney-general Christian Porter has resigned after revealing he accepted an anonymous donation to cover his costly and personal legal fees against the ABC. He told Prime Minister Scott Morrison that he was unable and unwilling to force a "blind trust" to reveal who was behind the anonymous funds. 
2: 'I used to pray I'd be knocked off my bike each morning'
In a very, very important and honest look into mental health, Herbert Smith Freehills partner and India practice chair Chris Parsons shares how his own experiences with mental health have become an integral part of who he is. He shared that there is "significant strength" in showing your deep vulnerabilities with the profession. 
3: Lawyers issue open letter to NSW Premier Gladys Berejiklian
An open letter addressed to the NSW Premier endorsed by over 100 members of the legal, academic, and political profession has called on the state government to revoke unlawful COVID-19 fines. The open letter called instead for greater investment in community education and engagement strategies as well as enhanced social and economic measures to support communities already in crisis. 
4: New tool for reporting sexual harassment in Victorian legal profession
The Victorian Legal Services Board and Commissioner has launched an online tool for lawyers to anonymously report instances of sexual harassment. The tool can be completely anonymous and will give the user complete control over the progress of their complaint and whether they want to advance to formal methods. 
5: 'Extraordinarily concerning': High Court determines whether relationship between barrister and trial judge deserves appeal hearing
The controversial relationship between a barrister and a trial judge – which is now the subject of an Australian Law Reform Commission inquiry – has returned to the High Court to determine whether the "numerous" text messages, phone calls and in-person meetings during key periods of the case warranted an appeal. 
6: Legal practitioners report experiences with judicial bias
Speaking of the Australian Law Reform Commission inquiry, it found that the majority of lawyers who have been involved in a case where the judge was asked to disqualify themselves reported the applications came from legal representatives (rather than self-represented litigants) and were successful less than half the time. 
7: Kate Jenkins 'not giving up' on remaining [email protected] recommendations
Sex Discrimination Commissioner Kate Jenkins said she has welcomed everyone's views on the legislative changes made by the Morrison government based on the [email protected] report and clarified that while the result was not everything she hoped for, she's "not giving up" on having the remaining recommendations accepted. 
8: Chief Justices, law society throws support behind NSW, VIC profession
The Victorian and NSW chief justices, along with the Chief Justice of the Federal Court of Australia and the Law Society of NSW, have sent messages of support to the profession as challenges with mental health and technology mounts in lockdown. 
9: How lawyers can shape the 'next normal'
Legal professionals have been living in the "new normal" for some time now. Looking ahead, the "next normal" will see those professionals designing what the future of legal practice looks like, according to Balance Family Law principal Perpetua Kish. 
10: Why people-building is one of the building blocks to a law firms' success
In this opinion piece, junior lawyer and director of Costi Copywriting, Stefanie Costi writes that building a successful law firm requires thought and planning but, above all, investment in the staff that works there. She said engaging law firms will connect and instil confidence in their staff while knowing full well that this behaviour leads to better results – especially in their overall reputation.