Competition for legal professionals higher in 2016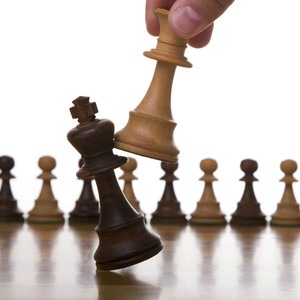 Exclusive research conducted by Momentum Intelligence, in partnership with Lawyers Weekly, has revealed a significant proportion of Australian legal professionals have been approached to switch firms this year.
According to the recent Legal Firm of Choice Satisfaction Report 2016, 65.2 per cent of survey respondents have been approached to switch to another firm in the past 12 months.
Commenting on the report in an episode of The Lawyers Weekly Show, Momentum Intelligence head of client services and sales research Andrew Scott said this suggests competition for legal professionals has skyrocketed.
"I think it's pretty clear that competition for legal professionals is higher in 2016 than it was in 2015," he said.
"We saw that 65.2 per cent of respondents have been approached to switch firms in the past 12 months, which in and of itself is a huge number and up 20 per cent on the 2015 figures.
"That says to me that people have identified that either there's a raft of people coming through who are wanting to move or there are people who have realised there's an opportunity to get good people into their firms, and they've become very proactive about starting to do that."
Earlier this year, legal consultant Joel Barolsky from Barolsky Advisors told Lawyers Weekly that there has been a "dramatic shift" in the attitude towards switching firms.
"There have been so many changes in the nature and in the shape of the industry as a whole, and also in how partnerships operate," he said.
"I think a lot of law firms are now focused on merit, rather than just on tenure or longevity […] it's become a lot more acceptable for partners to make a change."
In particular, he points to the influx of global firms setting up shop on the back of teams pinched from other firms, such as Allen & Overy, Clifford Chance and Squire Patton Boggs.
Mr Barolsky also noted that in many firms it's difficult to move up the ranks, adding to the attractiveness of switching firms.
"Particularly with some of the top firms not growing or expanding at the same rate, the career progression opportunities at some firms are not what they used to be," he said.
"It's a lot harder to become partner in some firms, or they may become a salaried partner but not an equity partner."
This may prompt lawyers with partnership ambitions – or those eyeing up equity – to switch to smaller firms, according to Mr Barolsky.
"From a career perspective, if you really want to become an equity partner, you might want to go to one of the smaller firms where your chances might be better," he said.
"Even then, it's quite tough to make it to equity partner status."
Over the past 12 months there have been a significant number of key players poached by competing firms.
In August this year, Mills Oakley announced it had nabbed two Gadens partners for its Brisbane-based insurance practice.
Soon after, Gadens appeared to hit back by recruiting Khilen Devani from Allens, despite him being at the firm for 10 years.
Also in August this year, US-headquartered international law firm White & Case announced it would enter the Australian market by September.
Since then 10 partners, with combined revenue of approximately $60 million, have been poached from top-tier global firm Herbert Smith Freehills.
Meanwhile, in September this year, in the midst of Jarman McKenna's talks to merge with Sparke Helmore, one of its founders David McKenna decided to jump ship to Mills Oakley, bringing with him a team of three lawyers and one assistant. 
The research for the Legal Firm of Choice Satisfaction Report 2016 was conducted during June and July 2016, with participants asked to complete a self-administered questionnaire via an online portal.
The questionnaire asked legal professionals how satisfied they are in their current role, which factors would be important in their decision to move firms, which firms they deem most attractive and which, if any, recruiters they may use for this process.
In total, 1,864 responses were received, with the data validation process resulting in a total usable sample of 1,561 legal professionals.
To find out more about the available reports from the Legal Firm of Choice 2016 research, contact Andrew Scott on 02 9922 3300 or via This email address is being protected from spambots. You need JavaScript enabled to view it.