Is a new migration law program needed?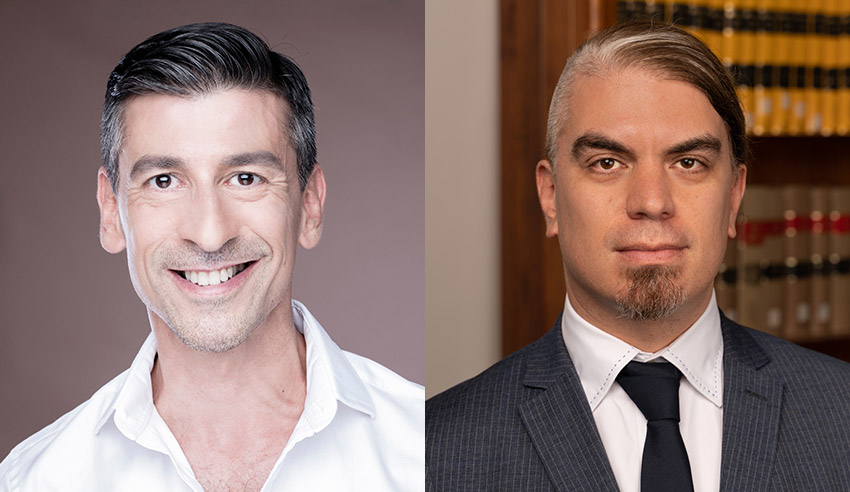 COVID-19 has significantly hampered the work of practitioners in the migration law space, but the pandemic does open a window to rethink how migration operates in Australia.
"Once the border is closed, the nature of your work changes."
That statement from Peter Papadopoulos, accredited specialist in immigration law and chair of the Migration Agents Capstone Assessment advisory committee, succinctly sums up the impact of the age of coronavirus on practitioners in the migration law space.
It has impacted, he says, "the way in which we interact with our clients and understand who our clients are".
Pandemic-inspired practice issues
Speaking recently on The Lawyers Weekly Show, Mr Papadopoulos and Estrin Saul Migration Specialists partner Daniel Estrin outlined the headaches that have arisen for migration lawyers and accredited specialists as a result of border closures and economic uncertainty.
Migration lawyers have had many ups and downs over the years, Mr Estrin reflected, and have developed resilience in the wake of such professional and economic turbulence.
However, he added, "when a lot of the industry is based on freedom of movement and a sound economy and both of those crash, you've got a bit of a problem".
"We're used to roller-coasters, and going to sleep one day and waking up the next with a visa subclass being entirely removed without notice, or a policy being completely reversed. But I employ 20 people across two states and we all specialise in just immigration law, and none of us at the firm have really experienced the sort of daily change in policy and movement restrictions that we've seen since the travel bans began in March," Mr Estrin mused.
"We're navigating not only a migration system, but also inbound and outbound travel restrictions, interstate travel restrictions, and let's not forget those intrastate travel restrictions that we had in WA for a while. Everyday you're having to respond to the mixed bags of government announceables. You've got weeks of policy and risk analysis and you really have to navigate through that framework."
This volume of change, Mr Estrin explained, has taken a toll on practitioners in the migration space.
"The rate at which that change is occurring is really, really scary. As a lawyer, despite the common misconception that lawyers like to obfuscate, not commit to a position, we lack certainty [in migration right now]. We can't tell clients, 'Yes, this is what will happen', and that's really frustrating from a professional perspective. We want to be able to give our clients certainty and that's something that we can't do right now. We're very much in a game of speculating on the basis of government policy on the go," he said.
Suggested action steps
In order to overcome such uncertainty, Mr Papadopoulos suggests two courses of action: one, advocate for change, and engage with your peers and colleagues in order to find meaningful solutions.
"Take an active interest in engaging with the government in order to be part of the conversation about shaping the responses, the responses to the things that trigger the need for change. For example, being part of the Law Council of Australia [means you are] involved in engaging with the Department of Immigration, lobbying the minister to ensure that responses are appropriate, necessary and proportionate to the trigger, so the problem, as it were," he said.
"An example like this I can give here is that, when we saw the borders closing, we realised that there was going to be a pool of people here on temporary visas that were about to expire, that couldn't get flights out of Australia. We didn't want a situation, because of the rigidity of the Migration Act. But as soon as somebody's visa expires, they become an unlawful non-citizen and liable for detention to be detained and removed. That just wasn't going to be possible. So the government was looking for responses and ideas on how to deal with this, and they introduced, through a lot of discussion with industry and people who are in the know, a new stream within an existing visa subclass, which will enable those people to regularise their status and extend their stay lawfully."
In addition, Mr Papadopoulos continued, migration lawyers and accredited specialists must have "meaningful conversations with your colleagues and clients about possible solutions and be a bit inventive and innovative in lodging applications for that same cohort of people, so that they could extend their stay lawfully. You have to be a bit more creative in that response.
The challenge is there for practitioners in this space in the wake of COVID-19, he surmised and it's something that isn't going away anytime soon.
"But, that's just part of being an immigration lawyer," he said.
A new program
Looking ahead to a post-pandemic world, Mr Estrin floated the idea of a new-look migration program borne from the reality that working professionals in all sectors will be more likely to work from home and/or remotely, and companies are waking up to the fact that this will have an impact upon migration.
"There are a lot of large companies who do large-scale, 400 short-term specialist entry visas. Now, with the closure of the borders, they are all but gone. When you've got one product that you're only focusing on and that product is essentially prohibited by the government, then you've got a problem. So, I think migration practitioners really need to have a look at how they can diversify their practice and complement the practice," he said.
Mr Papadopoulos agreed: "We've had a program that's largely been demand-driven where employers have dictated the conversation with the government to a large degree as to who should be coming into Australia, how quickly, what priority, and the government has responded to those demands. I think there's an opportunity for the government, as a result, to reset the migration program."
"Industries such as tourism, hospitality and education have been decimated as a result of the closure of the borders, COVID-19, and so forth. They're going to need to be kickstarted on the other side of this. Migration is going to be a really important part of that. I think it's exciting to see what sort of new frameworks will be put in place to enable that, and what will help build a more sustainable economy as a result of that," he said.
The pandemic has, in this sense, provided an opportunity and realisation for global businesses to redesign their workforces in conjunction with updated migration frameworks, Mr Papadopoulos surmised.
"COVID-19 has really redefined what we understand to be the world of work. From a migration point of view, what's really interesting is that we have an opportunity to see remote work whereby we have foreigners coming to Australia and working remotely for their employers overseas, but they're in Australia and we can get the benefit of them being here. That's an opportunity that the pandemic provides, but it's something that will obviously be realised once these border restrictions are relaxed," he said.
To hear the full conversation with Peter Papadopoulos and Daniel Estrin, click below: