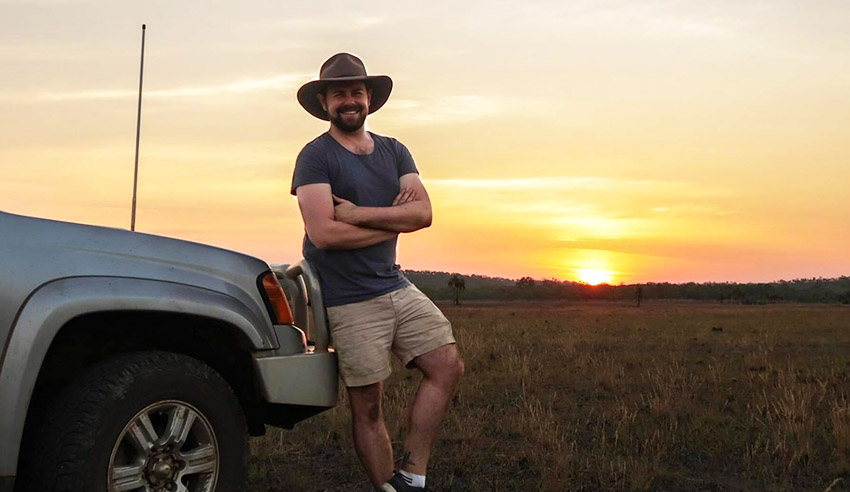 For those wanting to work remotely, or get among a legal market just as diverse as anywhere else in Australia, life in the Northern Territory could be a hugely attractive option in the new normal.
Working for an Australian legal employer from overseas is a vocational pathway that, in the age of coronavirus, no longer seems too far-fetched.
In a recent episode of The Lawyers Weekly Show, Cornwalls senior associate Sarah Bullock detailed her experience of working for her Sydney-based firm from Canada for 16 months, in which she outlined why it is shaping up as a viable option for lawyers post-pandemic and how to sell the proposition to one's supervisors. L'Oréal A/NZ legal counsel Jenna Adamson offered similar sentiments in her recounting to Lawyers Weekly of her ongoing experience working from her hometown of Christchurch for her Melbourne-based legal department.
However, another option that lawyers across the board can consider, if they so wish, is a move within Australia. Should such a thought be entertained, Darwin should be at the top of the list, said two former Lawyers Weekly Awards winners, Matthew Littlejohn (pictured) and Cassandra Taylor.
Having visited NT last year, it's hard to disagree with them. Not only is Darwin, and the broader territory, as beautiful as it is vast, there are legal professional opportunities abound, and not just given its geographic convenience as a gateway to Asia. In a post-pandemic marketplace, in which remote lawyering and use of tech will only continue, a move to the Top End may be the vocational pathway practitioners across the board have been searching for.
Moving to Darwin
Ms Taylor, the Indigenous Outreach managing solicitor at the NT Legal Aid Commission, said she decided to move to Darwin because she wanted a "change and a challenge", both personally and professionally.
"While at university, I had always imagined myself doing the kind of raw and gritty legal work that only the Territory has to offer, in particular I was determined to use my law degree to improve access to justice for our First Peoples living in remote communities," she told Lawyers Weekly.
"I was excited to expose myself to challenges and experiences that I knew I would never get back home in Sydney, but also worried about exposing myself to these challenges and experiences. Such a paradox!"
Mr Littlejohn, a barrister at William Forster Chambers, had similar motivations: "I was drawn to Darwin by the incredible opportunities on offer, as well as the unique combination of law, culture, and regional Australian life that simply can't be matched by the Eastern states. I was excited to work in a jurisdiction where the law was still actively developing and where I was able to, at an early stage in my career, play a direct role in that development."
Life as a lawyer in Darwin, he reflected, has been "very rewarding".
"Professionally, the skills I developed through taking the opportunities available in the NT allowed me to make the move to the Bar much earlier than I ever would have been able to elsewhere," he recounted.
"Personally, having direct exposure to some of Australia's most unique and challenging legal and social issues has made me more passionate about fundamental issues like access to justice, which tends to be a bit of a buzzword in other capital cities but in Darwin takes on a very real, physical meaning by virtue of the immense distances and remote conditions our communities face."
The relaxed pace of life, coupled with "excellent" work-life balance, is pretty hard to beat, Ms Taylor argued.
"The Territory is also unique in the range of exciting professional opportunities available, especially for young lawyers who might be struggling to get meaningfully involved in strategic litigation, experience in court advocacy, or even just direct contact with clients in a big law big city environment," she said.
Professionally, she has learnt what it means to be "truly agile", she said, adding that on a personal level, she has grown exponentially.
"Managing NT Legal Aid's Indigenous Outreach Program, I never know what the Territory is going to throw at me from one day to the next. Sometimes it is remote communities closing for sorry business, sometimes it's extreme weather and often it's the ever-changing COVID-19 situation. I had to quickly learn how to ensure quality service provision continued no matter what hurdle was thrown at me," she noted.
"For a small population, there are a lot of truly inspirational people living in the NT. I have had the pleasure of meeting so many incredible individuals from all walks of life this year and they have each left their mark on me and helped me grow into a more resilient, determined and insightful person."
Job opportunities and pandemic responses
Darwin's legal market, Mr Littlejohn posited, is "just as diverse as anywhere" in Australia.
"While criminal law and legal aid agencies make up a significant portion of the profession, there are also huge opportunities in construction, energy/resources, government, and commercial work that many people might not expect to exist – it's easy to forget that Darwin is one of Australia's most important ports, as well as serving as a strategic Defence base and the hub for a wide range of mining and energy interests, including solar and other renewables," he explained.
Ms Taylor said: "It probably goes without saying that the NT isn't the place to come if you want to work in a top tier law firm and climb the corporate ladder, as a lot of these types of firms don't have offices here. However, if you're looking to take a 'less conventional pathway', then the NT has plenty of options to choose from!"
The NT's legal profession ultimately fared well during the pandemic, Mr Littlejohn mused, noting that the territory avoided any community transmission, "which meant we could get back to normal much faster".
"The Courts responded incredibly well to the circumstances, leading the country in rapidly implementing electronic filing and practice directions for remote appearances, which allowed matters to continue to progress and avoided major delays," he said.
"The legal community has also worked tirelessly and pragmatically to tackle the backlog of matters coming from remote communities, which were most affected by the pandemic. In terms of marketplace issues, if anything the Darwin legal profession has enjoyed a small boost, with many lawyers taking the opportunity to escape the Eastern states and work remotely from the NT where restrictions were eased much earlier compared to the rest of Australia."
Ms Taylor said she was pleased at how well her team was able to respond to the pandemic and implement changes for adapted service without compromising the quality of work needed for the NT's "vulnerable population".
"This meant finding ways to continue to provide assistance to remote communities even when those communities were locked off from the rest of the Territory, as well as digitalising the way we work so that we were able to work from home," she detailed.
Working remotely from, or relocating to, the Top End
In a post-pandemic world, Ms Taylor predicted that more and more lawyers will look to "give up the hectic city lifestyle" and move to parts of Australia where property prices are cheaper, the weather is warmer and there is a more relaxed pace of life. Darwin fits the bill, she argued.
"I currently have friends who are working remotely from Darwin for employers based in the south as they haven't wanted to give up the Territory lifestyle. The border closures have also meant that more Australians are being forced to vacation closer to home and, in doing so, are opening their eyes to just how spectacular the Territory is," she submitted.
"Perhaps people are also realising that Darwin isn't quite as backward/remote as people down south might imagine (we have smashed avo and craft beers up here too!). I also think that the Black Lives Matter movement has helped many Australians realise just how much we have to learn from our First Nations Peoples, who possess the oldest culture in the world. The Territory is the perfect place to immerse yourself in Indigenous culture and explore the beautiful country that our First Peoples have been looking after for over 65,000 years."
Mr Littlejohn agreed that lawyering in the Top End will be an exciting prospect post-pandemic, but stressed that practising in Darwin has "always been attractive".
"Post-pandemic, being based in Darwin is definitely an attractive option for practitioners. Apart from the excellent Top End lifestyle, remote work has been common in the NT for a long time, given the distances between communities and the fact that many practitioners often work between Darwin and Alice Springs," he listed.
"For those who have enjoyed remote work and are worried the eastern states might return to the old-fashioned office-based routine, Darwin has left that model behind a while ago."
Advice
For any lawyers considering making such a move, either to work remotely or change up their legal practice direction, Mr Littlejohn suggested taking advantage of the current international travel ban and spending some time getting to know the NT.
"It's a place that is hard to describe or understand without actually being here, so anyone that's curious about life in the Top End should jump on a plane and come check it out first-hand," he advised.
"In the 'new normal', where remote working will be more common, the Northern Territory offers an exciting place to grow and develop new skills while at the same time taking advantage of the structures that we've had in place for a long time to support working outside of an office's four walls."
Ms Taylor supported this, adding some practical guidance: "Pack lots of cotton and linen clothing, it gets hot! I've also developed a habit of always carrying mozzie repellent in my hand bag."