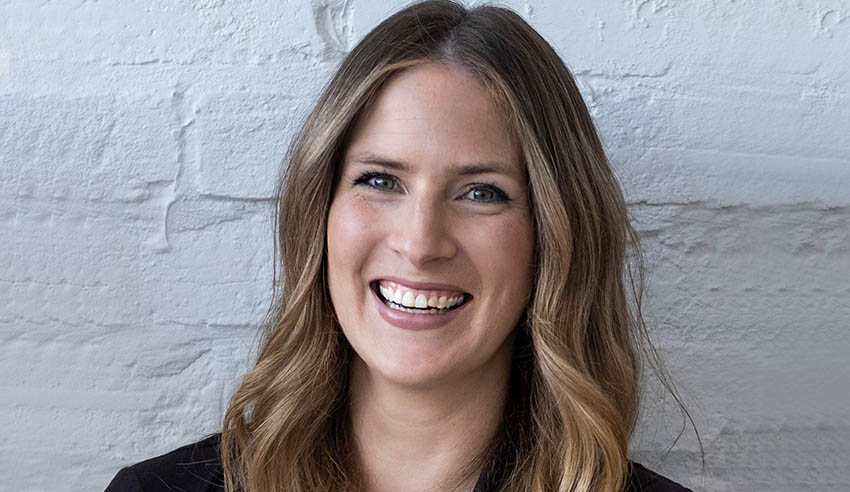 Business is about how people feel. For one director, leadership means making her staff realise that "what doesn't kill you makes you funny".
Alexandra Doig's bio on her firm's website says that "if she can't get you to crack a smile even in the most complicated dispute, then nobody can". Such an attitude to litigation underpins her entire leadership approach.
Speaking recently on The Lawyers Weekly Show, Ms Doig (pictured) – who is a director of Velocity Legal – said that lawyers are in a unique position to do good and help people. It's a duty, she said, that she takes very seriously.
"Looking after people, making them feel calm and that you understand them, that you are there to help them and are not just another barrier is crucial. I have to live with myself, look at myself in the mirror and make sure that what I'm doing sits well in my gut. That drives me every day," she espoused.
As the leader of her firm's litigation practice, Ms Doig said it is her role to "bring everyone along on the journey". It is important to care, she said, and to have and show emotion with staff.
"I think we have a real obligation to teach them that they should care and that it's okay to feel something. What we do in our job is very serious, but that doesn't mean that we have to take ourselves seriously. I think that lowers the stress levels a little bit," she explained.
"It's great to laugh. It's great to take a deep breath and to have a really good relationship with your peers, because that's what gets you through those really hard times. There will be hard times and I don't think we shy away from that. Litigation is incredibly combative. It's aggressive. There's a lot to it. And so, the only way you're going to get through that is by being able to laugh at yourself and to laugh with your team and to really feel supported."
One thing Ms Doig has noticed, she continued, is that junior lawyers get incredibly stressed when they make mistakes.
"I think that's actually good, because it means that you care about that. If you didn't get stressed about making a mistake, it just means that you're either complacent or you don't really care about what you're doing. I've made a lot of mistakes in my career, really stupid mistakes as well," she said.
What is subsequently necessary, she noted, is to be upfront and honest about such moments.
"I'm very happy to tell stories about the time I was in court and I told a judge, 'No worries, Your Honour'…stuff like that. It's just incredibly embarrassing as a junior solicitor, but those things happened and I got through it and we laugh about it now. I guess what doesn't kill you makes you funny," she said.
"We just use those things. Even if you don't feel like laughing, you put a smile on your face. Nothing puts people at ease more than a smile on your face. And that's just really, I think, the start to everything."
Moreover, Ms Doig added, it "gives them something other than financial gain to make them feel good". A lawyer's 'why', she proclaimed, cannot just be money.
"If we can be a little bit kinder to each other and to ourselves, and lead with compassion and with empathy as well, and understand that not only are there humans on the other sides of disputes, but as solicitors we're human, that can only be a good thing," she mused.
"You don't have to be a comedian, but you can be a human."
Ms Doig also recently spoke with Lawyers Weekly about the merger between Velocity and her former firm, Atticus Lawyers, and the lessons learned from a mid-pandemic merger. Lawyers Weekly also published a feature in March 2021 about the marketplace appetite for firm mergers and acquisitions as the post-pandemic world looms.
The transcript of this podcast episode was slightly edited for publishing purposes. To listen to the full conversation with Alexandra Doig, click below: