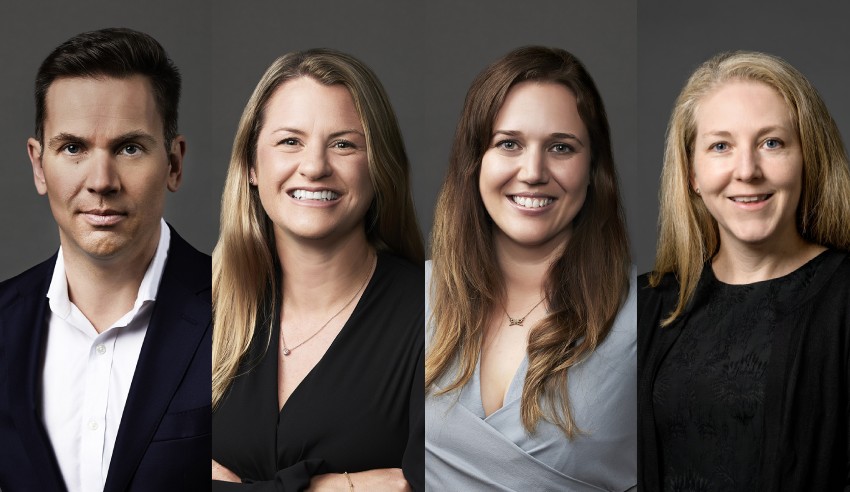 Whilst the legal profession can sometimes have a competitive reputation and be an intense working environment, these colleagues forged close-knit relationships in the world of BigLaw before making the move to a boutique firm.
After working together at both Clayton Utz and Allen & Overy, these four legal co-workers have reunited at Hazelbrook Legal – and emphasised the importance of good working relationships to Lawyers Weekly.
Managing partner Hugh Griffin co-founded Hazelbrook Legal with his wife and chief executive Annabel Griffin in 2013, leaving Allen & Overy in what he said was "by far the best decision" he's made for his career.
"The BigLaw system is designed to draw you into that and it makes sense, as having that as a driving ambition motivates you to work very hard, and to accept situations which you may not otherwise be comfortable with," he said.
"However, it is also incredibly narrow and not reflective, in any respect, of how people's career paths can change and evolve over time. In order to 'make the leap' to start Hazelbrook, Annabel and I had to go through the thought processes that most small-business owners do – in particular, the risk and uncertainty of stepping away from a regular income and defined career trajectory. It's terrifying and liberating in equal measure."
Last year, Hazelbrook nabbed partner Lucy Adamson from Gilbert + Tobin – someone who previously worked with Mr Griffin at Allen & Overy, and at Clayton Utz before that. In addition, the boutique recruited executive assistant Phoebe Ruston, who had also worked at Allen & Overy previously.
"My move from BigLaw to boutique was more about opportunity and right timing, not firm size. I had up until then spent my whole career at big firms and had never seen myself working anywhere else," Ms Ruston said.
"However, in my career, I've always been one to follow opportunities, and when the chance to work with Hugh came up again whilst continuing to do the work that I enjoyed, it felt like the right move."
Then, in February this year, special counsel Natasha Williams joined the firm, after working with Mr Griffin, Ms Adamson and Ms Ruston at both Allen & Overy and Clayton Utz.
"I have worked for many years with Hugh, Natasha and Phoebe, and they have been part of the best teams in my professional career. I started out as a graduate at Clayton Utz and rotated into a team with Natasha and Hugh. We were mentored by some very excellent senior associates and partners, who challenged us and guided us. We had each other's backs, and laughed and cried together," Ms Adamson told Lawyers Weekly.
"Our 'level 27' team became the mentors for the rest of my career, and I have called on them many times to help me make career decisions and for guidance and support. Phoebe was part of our A&O team in Sydney. She was often the glue that kept us all together. We may have worked in big firms (by number of lawyers or market presence, globally or otherwise) but the day to day was down to a tight-knit team who spent many hours working together, under challenging circumstances to achieve great outcomes for our clients."
Similarly, Ms Williams said that the move to a boutique firm was an easy choice, given the flexibility at Hazelbrook and the team she was joining.
"These are the people that I can trust implicitly. I know the integrity with which they operate and the quality of work that they produce. We have maintained that friendship over the years, catching up for a coffee occasionally and celebrating each other's successes with a quick email here and there," she said.
"When Hugh and Lucy reached out to see if I was interested in joining them, I already knew I would be joining a great team. Talking it over with them, it quickly became clear that Hazelbrook Legal was doing things differently. They are first and foremost a people business and have been intentional in attracting a team of excellent lawyers, who are doing challenging and high-quality work for great clients."
The group has remained in touch over the last decade – something which Mr Griffin said he had front of mind as different opportunities came up across his firm.
"I always hoped to have the opportunity to work together again, but knew it was a remote possibility – the stars would need to align! At Hazelbrook, we are fiercely proud of our culture and values – we are a high-performance workplace with a great culture – it is extremely difficult, and vanishingly rare, to have those two things at once," he said.
"But I know that Lucy, Natasha and Phoebe (and others from those teams) do have that amazing combination – to be able to reunite with these great people at Hazelbrook is a highlight of my professional career."
Ms Williams recommended reaching out to other lawyers to build on those working relationships – something which has been extremely valuable throughout her career.
"A career as a lawyer can be challenging. The work is often stressful, expectations high, and deadlines gruelling. Having strong working relationships with other lawyers can provide the camaraderie and support to make all the difference. In addition, at a more senior level, I think having trusted relationships where you can bounce ideas off each other and work collaboratively leads to a greater work product and outcome for clients," she said.      
"If you have a great working relationship with someone, I would encourage you to reach out and catch up occasionally. When you have a shared history, these sorts of relationships don't actually require a lot of work to maintain, and you never know where people's paths will take them and what opportunities will arise in the future."
Good relationships are the foundation of everything Hazelbrook legal is trying to build upon – and are what led Ms Adamson to jump ship from a BigLaw firm, she said.
"The move to Hazelbrook Legal was in some ways less about moving from BigLaw to boutique and more about moving to where I belonged. In my years of working, I have worked with some of the brightest and brilliant lawyers, including in my most recent roles. However, the stand out has always been the relationships.
"Your day-to-day relationships with your colleagues are at the foundation of any team. I would encourage any professional to reach out to the people around them to form genuine and fulfilling relationships. Mental health has been at the forefront in recent times, coping with COVID lockdowns, homeschooling, isolation, and fear of the unknown. When you are in a crisis situation, all effort goes into just coping with it. Moving forward," she said.
"When the crisis is over, you can question everything in your life, your work, your friends, why and how you spend your time. Sometimes the period of time at the end of the crisis is the most difficult. When you are trying to comprehend what has just passed. It is these times that your relationships move to the forefront. They are critical."
For Ms Ruston, the opportunity to make "lifelong friends" and genuine connections has led to her feeling more valued, respected and supported in a work environment.
"I've been fortunate enough to have always worked in teams where team culture has been just as important as firm culture. It just so happens that early on in my career, in one of those teams, I was lucky enough to have met Hugh, Natasha and Lucy," she added.  
"If team culture is thriving, it will help to weather the peaks and troughs within the sector. At Hazelbrook, a unified culture is what is valued and is front of mind and everyone plays a part in that."
Relationships are "critical to every aspect of being a lawyer", Mr Griffin added.
"It is through genuine relationships that you can build support networks and progress through a firm; build referral networks; and build an amazing practice.  The practice of law is unnecessarily confrontational and competitive – it is possible to be respectful and kind to everyone you deal with (including opposing lawyers), but to remain the fiercest advocate for your client," he said.
"Culture is so critical – in BigLaw, the culture within a team can be as influential as the wider firm culture. The culture of our previous teams enabled us to build enduring and genuine connections that we are now carrying forward."
And at Hazelbrook, the wider firm culture is extremely important to the leadership, according to Ms Adamson.
"Firm culture has everything to do with forming genuine connections. Sometimes the best relationships can form out of the worst cultures! When you are uniting against a common adversity. However, if you want those relationships to last, you need to aim higher.
"We are aiming for a cohesive culture where we come together in celebration of our strengths rather than in reaction to adversity. It requires a commitment at every level of an organization. However, my life experience to date has proven that it is worth it."
The Lawyers Weekly Jobs Board has had a refresh! To check out the latest opportunities in private practice, in-house and more, click here.