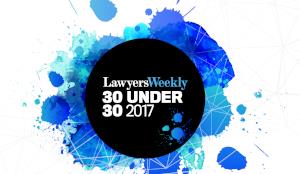 The finalists for Lawyers Weekly's 30 Under 30 Awards have been announced.
This year received the highest submissions for the event ever, attracting young guns from firms of all sizes and areas of expertise.
Each of the 15 major categories asked entrants to submit their work over the past 12 months, their leadership within the firm and their contributions to the legal sector. 
A panel of high-profile judges will select two winners for each category, which will be announced at a cocktail event at The Ivy Ballroom, Sydney on 23 June. 
The event aims to recognise Australia's brightest young lawyers, with the eventual winners representing some of the up-and-comers who are making a true impact on the profession early on in their careers. 
Event partners include Taylor Root, UNSW Law and Momentum Intelligence.
To learn more about the event, click here.
To purchase tickets, click here.
The finalists for the 2017 30 Under 30 are:
Banking and Finance
Rod Aldus, Allens
Michelle Guy, McCullough Robertson
Bryce Clarke, Australian Securities & Investments Commission
Alistair Green, Squire Patton Boggs
Matthew Hannam, DWF LLP
Sian McLachlan, King & Wood Mallesons
Jodie Partridge, DibbsBarker
Ben Robinson, Herbert Smith Freehills
Rob Scutella, Gilbert + Tobin
Tara Senaratne, Hall & Wilcox


Commercial
Matthew Burge, Gadens
David Foong, Clayton Utz
Yixin Gong, King & Wood Mallesons
Eugene McAuley, McCarthy Durie Lawyers
Lara Nurpuri, Slater and Gordon Lawyers
Akshaya Ravi, Macpherson Kelley Lawyers
Ben Robinson, Herbert Smith Freehills
James Skelton, Swaab Attorneys
Carina Zeccola, Griffin Legal
Amy Zhang, Harmers Workplace Lawyers


Construction and Real Estate
Jenna Adamson, MinterEllison
Aimee Allan, King & Wood Mallesons
Fiona David, DibbsBarker
Kerrie Duong, Baker McKenzie
Kimberley Lean, Herbert Smith Freehills
Andrew MacGillivray, Piper Alderman
Ben Malone, Massons
Danielle Monti, K&L Gates LLP
Rachel Richardson, Clayton Utz
Louise Young, MinterEllison


Corporate Counsel
Alex Butterworth, McDonald's Australia Limited
Bryce Clarke, Australian Securities & Investments Commission
Alison Cusack, ANL Container Line Pty Ltd
Kendra Fouracre, Telstra
Theo Kapodistrias, University of Tasmania
Alison Lyons, City of Parramatta Council
Lisa Nguyen, American Express Australia Limited
Haylen Pong, Salmat 
Julia Scott, Gilbert + Tobin
Bianca Xerri, Suncorp Group


Dispute Resolution
Dean Alexander, Mills Oakley
Iva Bacvic, Herbert Smith Freehills
Amelia Edwards, Herbert Smith Freehills
Aleksandra Ilic, King & Wood Mallesons
Jonathon Lean, Aitken Partners
Joshua Ehrenfeld, Gilbert + Tobin
Melinda Ranson, Merthyr Law
Millie Richmond-Scott, MinterEllison
Stipe Vuleta, Chamberlains Law Firm
Matthew Williams, HW Litigation


Family
Ciara Daly, Aboriginal Legal Service (ALS)
Eleanor Douglas, Pace Lawyers and Adelaide Legal
Daniel Hallam, Bluewater Lawyers
Tina Lee, KCL Law
Katherine Marshall, Best Wilson Buckley Family Law
Alexandra Metherell, Tisher Liner FC Law
Chloe Rattray, Lander & Rogers
Phillip Ridgway, Phillips Family Law
Jessica Wolski, Mazengarb Family Lawyers
Miranda Woodland, TASC National


Government
Natasha Apostolov, DLA Piper
Bryce Clarke, Australian Securities & Investments Commission
Ashley Burgess, Sparke Helmore Lawyers
Laura Hillhouse, Ashurst 
Nicole Maddocks, DLA Piper
Marlowe Mitchell, Herbert Smith Freehills
Simon Moses, MinterEllison
Jeffrey Sheehy, DLA Piper
Emily Sims, Judicial Conduct Commissioner (SA)
Ada Wong, Mills Oakley


Insurance
Daniel Bunoza, MinterEllison
Peter Craney, Kennedys
Blake Egelton, Clyde & Co
Sach Fernando, Zaparas Lawyers
Anna Gudkov, Norton Rose Fulbright 
Benjamin Hine, DLA Piper
George Ioannidis, Hall & Wilcox
Naazihah Jamal, Gilchrist Connell
Laoise O'Connor, Barry.Nilsson. Lawyers
Jacob Redden, Gilchrist Connell


Intellectual Property
Maggie Chan, King & Wood Mallesons
Rhiannon Fletcher, Page Seager
Luke Hawthorne, King & Wood Mallesons
Sheree O'Dwyer, Griffith Hack
Peter Pereira, Gilbert + Tobin
Alyson Poole, Norton Rose Fulbright
Brett Shandler, DLA Piper
James Skelton, Swaab Attorneys
Jaimie Wolbers, K&L Gates LLP
Sandy Zhang, Bennett & Philp Lawyers


Mergers and Acquisitions
Venkatesh Ananthakrishnan, Thomson Geer
Naomi Benton, McCullough Robertson Lawyers
Stephanie Glover, DLA Piper
Wendy Hsu, Gilbert + Tobin
John Karantonis, Clayton Utz
Mitchell Kelly, Norton Rose Fulbright
Claire Koller-Smith, Herbert Smith Freehills
Joanna Lawrence, Corrs Chambers Westgarth
Ben Stewart, Squire Patton Boggs
Apoorva Suryaprakash, Allens


Pro Bono
Danielle Barry, Clayton Utz
David Burke, Lander & Rogers
Amy Burton, Salvos Legal Humanitarian
Kate McKenzie, DLA Piper
Emile McPhee, McCullough Robertson Lawyers
Daniel Meyerowitz-Katz, Levitt Robinson Solicitors
Claire Toner, King & Wood Mallesons
Patrick Turner, Maurice Blackburn Lawyers
Alicia Wells, Henry Davis York Lawyers
Amy Zhang, Harmers Workplace Lawyers


Projects, Energy and Resources
Rupert Baker, Herbert Smith Freehills
Thomas Bramah, Norton Rose Fulbright
Rebecca Dunlop, DLA Piper
Faith Laube, Colin Biggers & Paisley
Kate McLean, Clayton Utz
Meg Morgan, McCullough Robertson Lawyers
Ellie Mulholland, Allens
Lauren Murphy, King & Wood Mallesons
Anthony Pizzolato, Ashurst
Cassandra Wee, Ashurst


Taxation
Julie Abdalla, MinterEllison
Rebecca Clarke, MinterEllison
Amanda Comelli, Brown Wright Stein Lawyers
Caroline Ee, McInnes Wilson Lawyers
Mary Hu, Greenwoods and Herbert Smith Freehills
Luke Imbriano, Deloitte Lawyers
Amanda Kazacos, King & Wood Mallesons
Rachel Law, Hall & Wilcox
Ryan Leslie, Greenwoods and Herbert Smith Freehills
Aimee Riley, Thomson Geer


Technology, Media and Telecommunications
Elyse Adams, Allens
Jasveen (Alisha) Ali, NEXTDC Ltd
Simone Blackadder, Baker McKenzie
Claire Burke, Baker McKenzie
Amelia Edwards, KHQ Lawyers
James Majarich, MinterEllison
Alexander Maschmedt, King & Wood Mallesons
William McCullough, McCullough Robertson Lawyers
Louisa Mulquiney, Gilbert + Tobin
Verity Stone, HopgoodGanim Lawyers


Workplace Relations, Employment and Safety
Phoebe Blank, McKean Park Lawyers
Josephine Hart, HopgoodGanim Lawyers
Emily Lupo, Maurice Blackburn Lawyers
Amanda Lyras, Herbert Smith Freehills
Philippa Noakes, Seyfarth Shaw LLP
Mark Norman, Dentons
Haren Pararajasingham, United Voice NSW
Dean Tolkin, Sasphire Legal and Keypoint Law
Patrick Turner, Maurice Blackburn Lawyers
Amy Zhang, Harmers Workplace Lawyers