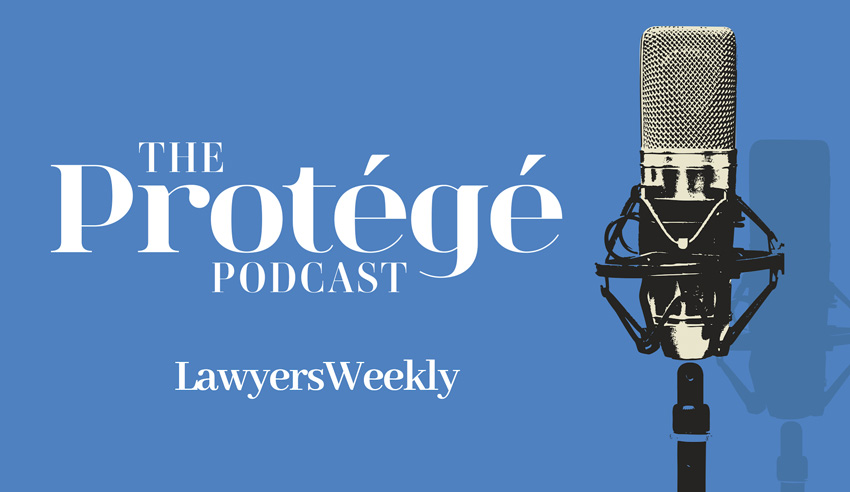 The Protégé Podcast, produced under the banner of The Lawyers Weekly Show, continued to put a bright spotlight on the profession's budding lawyers to showcase their many wonderful achievements and offer some helpful career-building advice. Here, we take a look back at the 10 most popular episodes of 2021.
Whether it was sitting down with an aspiring lawyer or talking to more experienced practitioners about their best tips and tricks, The Protégé Podcast was packed with a lot of career-defining information for the next generation of legal professionals. The last 12 months, in particular, proved the future of the profession lies in capable hands.
As host, sitting down and talking with aspiring lawyers about everything they have done and everything that they have planned for their future is one of my favourite parts of my job. Each and every person I spoke to in 2021 was so inspiring, and I am beyond excited to see where they and their peers take their legal careers next.
We're so excited about where the show will go next in 2022, and I look forward to delivering more interviews, information and advice. If either you, a friend, or a colleague would like to join me on an episode this year, send me an email with a little bit about yourself to This email address is being protected from spambots. You need JavaScript enabled to view it.. Students, graduates and more experienced practitioners with advice are all welcome!
The top 10 episodes of 2021 are:
10: Culture of silence challenged with student-designed reporting platform
In an effort to address the culture of silence and encourage the legal profession to eradicate bullying and sexual harassment, a team of students created an online platform designed for anonymous reporting. This episode was recorded with juris doctorate candidates Amer Nasr and Erica Giulione and bachelor of arts and law student Marcus Lee, all members of the team behind Confidant.
9: What it takes to be a law student society president
In this episode, Protégé hosts the immediate past president of the University of Wollongong's Law Student Society, Theodore Totsis, to chat about how he progressed from member to vice-president and, finally, to president. The episode is full of advice for students considering joining their own Law Student Society.
8: How new lawyers can use AI and new tech to stand out in the workplace
With AI and new technologies quickly on the rise across the legal profession, Melbourne Law School's Professor Jeannie Paterson joined the show to explain why it's so vital that the next generation of lawyers are planning their education and career moves around experience and expertise within the digital legal space.
7: Moving up from small town to big firms as a young graduate
Travis Schultz and Partners' senior associate Hugh Powell joins us for an episode to discuss his move from a small town on the Sunshine Coast to working in bigger places (before ultimately finding a firm that worked best for him). Hugh also shares some advice on travelling great distances to commit to a legal career.
6: What adding mooting to a resume can do for a legal future  
Commenting on the many advantages of mooting, Australian National University law student and former sub-team captain of Team Australia, Madeleine McGregor, said the experience opened her up to advocacy in a way that the ordinary clerkships, community centres and other legal work experiences could not offer.
5: Getting into the 'wide world of legal practice' with WIL award winner
In this episode, the 2020 Women in Law Awards winner for the law student category, Melany Toombs, chats about why it's so important to work alongside inspirational women, take advice from senior practitioners and bring others up along with them. Melany also shares what the win meant for her and for women in the profession.
4: In-house over private practice? There's a lot to think about
In a look at in-house roles and how to get there immediately after graduation, Protégé is joined by Wayne Clarke, who sits on the Association of Corporate Counsel (ACC) law student and graduate committee and is also associate director of legal at Cognizant. A lot of his advice in the episode centres on being strategic with the roles that in-house aspiring law students seek out at the beginning of their careers.
3: Boutique to BigLaw and the benefits of both for young grads
Rather than committing to one or the other, soon-to-be lawyers may find that their careers will be better off by sampling small and big firms alike, Peripheral Blue founder and managing director Mellissa Larkin explains in this episode. This clocks in at third place for a very good reason as it's full of advice for students and graduates on the fence about their futures – and the size of their preferred firms.
2: What a social media brand can do for your legal career
In a fun look at how a social media brand can actually be a plus for a legal career, Protégé is joined by Brisbane Family Law Centre's Kiarah Kelly to discuss how her witty and colourful online branding landed her the job. There is a lot of extra advice packed into this episode, like how students can work backwards to find their "law language" and how to prepare for a career in the family law space.
1: The reality behind preparing for life as a barrister
In first place is our episode with new barrister Emma Fitzgerald who gives a very honest (and very important) look at what it actually takes to become a barrister, including the financial stress and the tough exams. As part of the episode, Emma shares the setbacks she experienced – including homelessness and mental health struggles – and how support networks and a passion for law guided her.