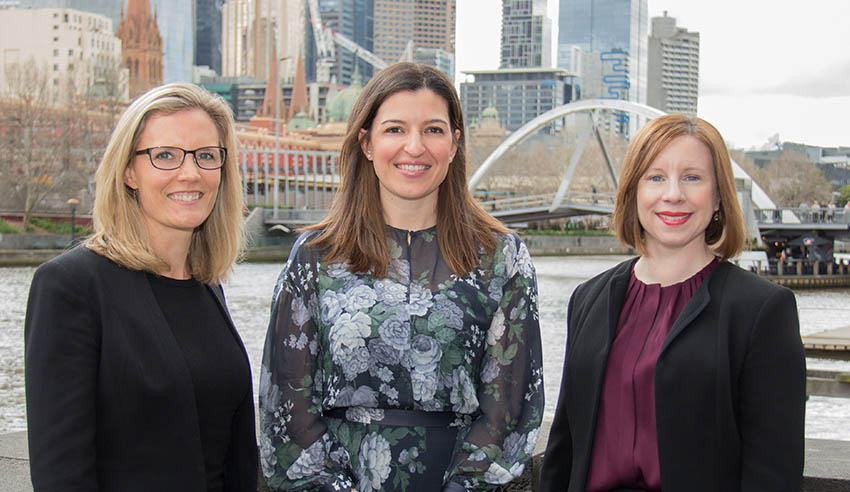 People are the best asset of any law firm, and for those in the boutique space, flexible working arrangements are fundamental – and not just for working parents.
In anticipation of International Women's Day 2020, the three female partners (out of eight total) at Kalus Kenny Intelex spoke with Lawyers Weekly about the role that flexibility must play in the DNA of boutique law firms.
Heather Richardson said that is it important for employers to prioritise flexible working arrangements because it allows them to attract the "best possible candidates".
"Particularly with respect to boutique firms, many lawyers seek to work for a boutique firm with a view to obtaining flexibility that they might not be afforded elsewhere whilst still working on complex matters and with the support of a team structure around them," she noted.
Denise Wightman added: "People are any firm's greatest asset. Each staff member is an individual with their own unique needs and circumstances. It is crucial to staff engagement and retention to recognise this by offering flexible working arrangements that recognise that family comes first."
Lisa Fowler mused that actively embracing flexibility "can be a massive drawcard" for lawyers who want to practice law in a way that best suits their personal needs, particularly in a legal marketplace where boutiques can and do rival the big end of town "in terms of client base, quality of work, career progression and remuneration".
Those working in law, Ms Fowler continued, "have been craving flexibility for such a long time".
"It's something that's either in a firm's DNA or it's not – and lawyers will gravitate to firms that offer it. Here at KKI, the partners like to lead by example. All of the partners work flexibly and in ways that best [suit] their personal circumstances. This demonstrates to the more junior staff that flexibility can work in legal practice (even at the most senior level) and shows junior staff various ways in which to make it work (as all eight partners adopt quite different approaches to achieving flexibility)."
When it comes to implementing and encouraging flexibility, it's important to note, Ms Wightman observed, that "nothing doesn't work".
"Firms need to be open-minded and embrace the changing work environment. Flexibility works both ways. We work really hard with individuals to accommodate requests. If it's not working for either of us it becomes quite obvious so we step back and review different ways to make it work," she posited.
"Any flexible workplace requires trust and security – trust on behalf of the employer that the employees will work the hours they say they will, whether these are flexible start or finish times or working from home and security on behalf of the employee that if they need to change their hours one week to accommodate external commitments this will be allowed, with the understanding that these hours will be made up in another week," Ms Richardson added.
"All part-time employees that I know work very hard to ensure that they are not seen to be taking the flexibility for granted. It is a give and take situation or, as we say, swings and roundabouts, and there needs to be open communication on behalf of both parties," she said.
The key, Ms Fowler surmised, is to ensure that flexibility is available to all staff members, and not just the working parents.
"Our firm has shifted away from the notion that flexible working should be reserved for working parents and we now have staff working flexibly for a whole range of reasons," she said. 
"Its success largely depends on staff self-assessing when they themselves need to be flexible in return, in order to meet the needs of the clients and business (e.g. staff member who normally works from home on a particular day needs to come into the office because they have an urgent client meeting or need to be in court on that day etc.)."
Moreover, legal professionals who need or want flexibility will find it "one way or another", Ms Fowler remarked, and thus is it incumbent upon firms – especially in the boutique space – to offer it.
"If we don't actively embrace, accept and encourage flexibility then we run the risk of losing quality staff to businesses that will accommodate flexibility," she said.
Ms Wightman supported this: "Staff engagement and retention are issues for all law firms who don't properly accommodate the needs of their staff. This isn't anything new," she said.
"If boutique firms do not properly accommodate the needs of their staff, they simply will not be able to attract the best candidates," Ms Richardson concluded.
To experience unparalleled networking opportunities exclusively for boutique law firms and lawyers in Sydney and Melbourne, be sure to attend the Boutique Law Summit 2020. Book your tickets

 

here.