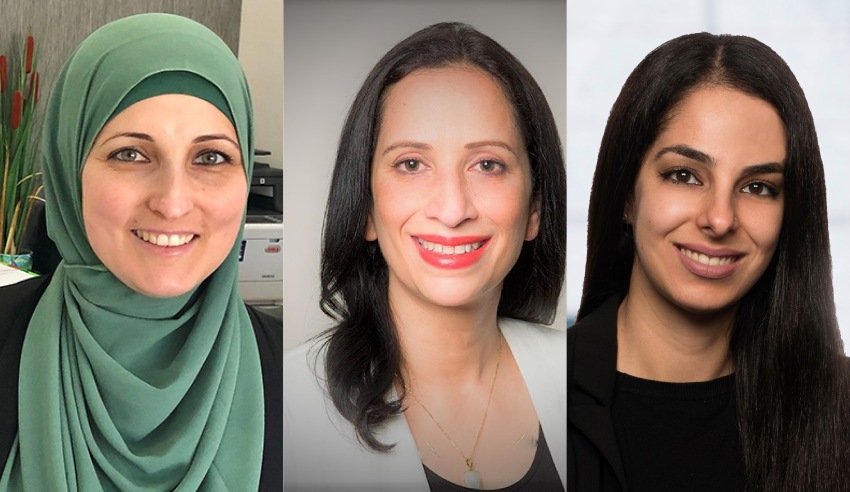 Ramadan is about "so much more than abstinence from food and water" – for Muslim lawyers, it can also be a time to ponder one's purpose and service, both personally and professionally.
For GDA Lawyers principal Ghania Dib, Ramadan (pictured, left) – an annual commemoration of Muhammad's first revelation, which is observed as a month of fasting, prayer, reflection and community for Muslims around the world – is her and her family's favourite time of year.
Ms Dib, who recently appeared on The Boutique Lawyer Show to discuss using her personal experiences in the family law system to help others, as well as her philosophy of achieving justice, said Ramadan is a time to feel more connected to those in one's life.
It means, she explained, fasting from sunrise to sunset (including abstinence from water), and engaging in additional acts of worship, particularly prayer and remembrance, known as "dhikr".
It is a time, Entity Solutions general counsel Sabah Khan (pictured, centre) mused, to come together at day's end at "iftar" (breaking of the fast meal) for prayers and to be grateful for what one truly has.
"And yes," she added, "gadgets are off-limits during this time.
"It is a time to really focus our thoughts and efforts on reaching out and helping people in need."
Russell Kennedy associate Rana Awada (pictured, right) agreed, saying the month of Ramadan – which this year ran from 12 April to 12 May – humbles her and makes her appreciate those things in life that she tends to forget or take for granted, "because of the fast-paced life that I lead as a lawyer and mother".
For the three women, undertaking Ramadan as practising lawyers comes with interesting challenges, but ultimately, is a most rewarding endeavour in accordance with their faith.
Pondering one's duty as a lawyer
One such reward, Ms Awada pointed out, is consideration of how to better one's self from within.
"Being a lawyer is a great privilege and comes with responsibilities and commitment to the court and our clients," she said.
Part of this, Ms Khan added, is the duty to uphold human rights – known as "Haqooq ul Ibad" – which is a "very important part" of one's faith as a Muslim, she said.
"This is also consistent with our role as lawyers to ensure everyone has access to justice. So, it does become a point of reflection on the contributions I could make by virtue of my special knowledge and position to advance such causes," she explained.
As a result, Ms Dib surmised, Ramadan is "about so much more than abstinence from food and water".
"At the heart of Ramadan is bringing a God-centred approach to all that we do, be it fasting, praying, interacting with family and friends or attending to our professional obligations. A lot of that comes down to intention, so as Muslim lawyers we can bring in the intention of serving others for the sake of Allah (God), doing our job to the very best of our ability and being present," she outlined.
"Actioning the intention, so doing the do, enables us to become better legal practitioners. I have found that I am relatively more productive during Ramadan as a result of focusing on being more present and attentive to the task at hand."
Challenges during Ramadan
Thankfully for Ms Awada, she does not find Ramadan to be a particularly challenging time in which to undertake her duties as a lawyer: "My religion emphasises the importance of having high morals and ethics. I continue to uphold these high standards whether I am fasting or not, the court and our clients rely on us to do the right thing," she proclaimed.
However, Ms Dib and Ms Khan identified hurdles pertaining to time and community awareness that can and do affect lawyers during this month of observance.
"Ramadan takes place during April and May, where the sun sets relatively early, and so Muslim lawyer face the challenge of being able to get through their workload in time to make it home for the family iftar. I suspect that like myself, many of us have had to break our fast alone at the office on one or two occasions," Ms Dib noted.
"So, it's really about balancing professional obligations with religious adherence. As lawyers, we tend to do a lot of talking. I find not being able to drink water during the day to be a little extra challenging during lengthy conferences or court appearances that take place late in the day."
On top of this, one may also have to contend with people not knowing or understanding why Muslim lawyers are fasting and having to excuse themselves from a work lunch or a coffee, Ms Khan said.
"But I think that in itself brings in a wonderful opportunity for me to share my faith with my friends, colleagues and business associates, thus learning more about each other and building deeper connections," she added.
Interestingly, she recalled, she recently had to travel to Sydney from Melbourne for a lunch meeting, and had to inform her colleagues that while she would be in attendance, she wouldn't be able to eat with them.
What followed surprised her: "Before I knew it, the meeting was moved to dinner. So, it was business after 'iftar'."
To better manage this particular challenge, Ms Khan said small adjustments to one's timetable usually suffice in getting through the working day.
"The days are quite short in this part of the world with the sun setting at around 5.45pm, which is when we break our fast. It does mean I start my day much earlier around 5am for 'sahur', but that in fact gives me a head start working on some of those complex pieces of advice with a fresh mind," she said.
"I just hope I stick to it after Ramadan and finally become part of the '5:00AM Club'. Mind you, that's what I had hoped last Ramadan, too."
Ms Dib also made this year's Ramadan a bit harder for herself, signing up for Penny Appeal Australia's Emergency Relief Challenge, during which she pledged to walk or jog 200 kilometres over the course of the month of observance and raise money to assist those who have been disadvantaged or displaced as a result of Lebanon's economic and political crises, as well as the aftermath of the Beirut blast and the pandemic.
"A significant proportion of my walking/jogging occurred while I was fasting. This was quite difficult at first, while my body adapted to the lack of hydration. I also found it challenging to fit all of the walking in around my already busy schedule of running my own practice and being a lawyer mum, while being able to make it home in time to help with preparing my family's iftar," she recounted.
"This has required me to adjust my work schedule, with some of my caseload being attended to overnight or on the weekend. On some occasions, it has been impossible to leave my office in time to help with iftar preparation. I am lucky my husband knows his way around the kitchen and has been able to help take over iftar preparation on the days I have been unable to do so."
Lessons from undertakings of faith
For Ms Khan, Ramadan is always a time for a "spiritual reset", during which she can ponder her purpose as a legal professional. It's something that other lawyers, including non-Muslims, can also do.
"It is a reminder to connect with yourself, your purpose and the people around you. And I think each of us needs to take the time to do that! As a lawyer, Ramadan serves as another reminder of our obligation to be ethical in our practice, not just in our personal but also our professional lives. And as lawyers, we should have a way of having this in check in our day-to-day practice," she detailed.
Ms Dib supported this, noting that there is a place for diversity in Australia's legal profession, allowing those with religious beliefs to practise in ways that enrich not only themselves, but how they practice as lawyers.
"Religion and law are not and should not be mutually exclusive," she concluded.
"It's all about finding a balance that works for you, a balance that provides you with the space for spiritual connection and professional progression."
Are you an emerging legal professional and/or law student keen to stand out from the pack? Lawyers Weekly's Career Expo & Emerging Leaders Summit will connect you with Australia's top companies and leading educators to help you secure the perfect role. The free-to-attend live-stream event is designed to arm you with the tools and strategies to succeed in the current market and is being held across three action-packed days over 8, 9 and 10 June. Click here to find out what you'll gain from attending and head to the official site to register now!