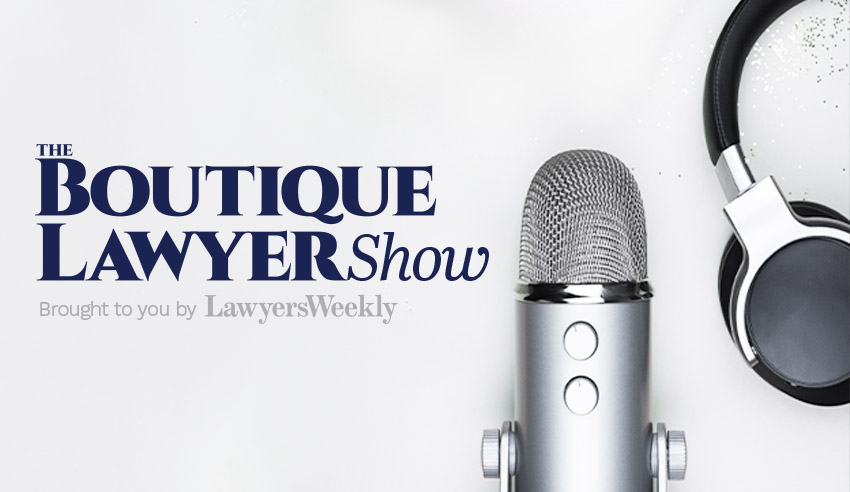 Lawyers Weekly boasts the nation's most popular industry-specific podcast network, and its small business show is garnering more and more attention. Here are the most-listened-to episodes of this year, to date.
5. The Boutique Lawyer Show: Small still equals 'leading edge'
NDA managing director Joshua Davies and NDA founder and member of Parliament in South Australia Andrea Michaels discuss why they both chose SME law firms from the outset of their vocational journeys, why those coming through the ranks may prefer to shy away from the big end of town, and how a small outfit in South Australia can compete on the national stage in the same way a global practice is expected to.
4. The Boutique Lawyer Show: Taking work away from bigger firms
When former accountant and barrister Trevor Withane moved over from the UK, he realised that the Australian marketplace is much more relationship-driven than in Britain. As such, he says, boutiques have to be strategic in approaching prospective clients if they are to land big matters. Here, the Blackwattle Legal partner discusses how best boutiques can successfully pitch clients for work that would otherwise go to the big end of town and how such pitches may need to evolve in a post-pandemic world.
3. The Boutique Lawyer Show: Living in DC while running a Qld-based firm
RTI Consultants founder and director Rebecca Murray – who won the Sole Practitioner of the Year category at the 2020 Women in Law Awards – joined the show from Washington, DC, to discuss operating her Queensland-based firm from across the globe, how clients and external stakeholders have responded to her move, how she made it work, how the age of the coronavirus has brought to light people's desire for greater transparency from governments, making remote work successful for idiosyncratic circumstances, and the need to find community wherever you possibly can.
2. The Boutique Lawyer Show: Transform how your firm operates
Perth-based Lucy Dickens – who spoke at our recent Careers Expo & Emerging Leaders Summit – discussed the need to do things differently, particularly as the marketplace and client expectations are evolving at such a rapid pace. Necessary changes, Ms Dickens notes, can range from incorporating fixed pricing to building one's brand by way of public speaking and book writing.
1. The Boutique Lawyer Show: Be an entrepreneur first and a lawyer second
Joanna Oakey believes it is critical for SME firm owners to think of themselves as entrepreneurs if they are to build successful businesses, especially during a period of such turbulence. Part of this thinking, she argues, involves being heavily involved in the community in which one's firm operates, and making time – and financial space – for giving back to needy causes.