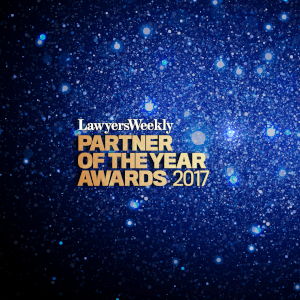 The finalists for Lawyers Weekly's 2017 Partner of the Year Awards have been revealed.
The second annual Partner of the Year Awards received a record number of submissions across 23 hotly contested categories. 
Winners will be announced at a black-tie event at The Westin in Sydney on 28 April, recognising outstanding performance by partners across a broad range of practice areas.
Lawyers Weekly would like to congratulate the finalists, we look forward to seeing you at the event. 
To purchase a ticket, click here.
For more details, click here.
The 2017 Partner of the Year finalists are:
Banking and Finance
Claire Rogers, King & Wood Mallesons
Harry New, Hall & Wilcox
Helen Ord, Dentons
Katherine Forrest, King & Wood Mallesons
Mark Inston, Hall & Wilcox
Michael Goss, DibbsBarker
Sonia Apikian, Gadens
Yuen-Yee Cho, King & Wood Mallesons
Commercial
Brendan Earle, Herbert Smith Freehills
Claire Carton, Griffin Legal
Glenn Hughes, Russells
Hiroshi Narushima, Gilbert + Tobin
Lauren Magraith, Baker McKenzie
Dr Martyn Taylor, Norton Rose Fulbright
Michele Muscillo, HopgoodGanim Lawyers
Peter Cook, Gilbert + Tobin
Peter Jolly, Thynne + Macartney
Stuart Byrne, Clayton Utz
Competition, Trade and Regulation
Caroline Coops, King & Wood Mallesons
Kirsten Webb, Clayton Utz
Luke Woodward, Gilbert + Tobin
Dr Martyn Taylor, Norton Rose Fulbright
Sharon Henrick, King & Wood Mallesons
Stephen Voss, Thomson Geer
Construction and Infrastructure
Amanda Davidson, Davidson Legal, Consulting, Advisory
Chris Mitchell, King & Wood Mallesons
David Hugo, Herbert Smith Freehills
Donna Sewell, See Well Law
Greg Richards, Mills Oakley
Janelle Kerrisk, Helix Legal
Mark Yum, Madison Marcus Law Firm
Sandra Steele, K&L Gates
Sergio Capelli, Clayton Utz
Criminal
Andrew Tiedt, Armstrong Legal
Daniel Hua, Cridland & Hua Lawyers
Dispute Resolution and Litigation
Alex Haslam, Gilchrist Connell
Andrew Lacey, McCabes Lawyers
Crispian Lynch, Gilbert + Tobin
Grant Bonner, Norton Rose Fulbright
Jason Betts, Herbert Smith Freehills
John Pavlakis, Ashurst
Louise Massey, Dentons
Peter Pether, King & Wood Mallesons
Robert Ishak, William Roberts Lawyers
Sean Radburn, Somerville Laundry Lomax Solicitors
Family Law
Ben O'Neill, O'Neill Family Law
Geoff Wilson, HopgoodGanim Lawyers
Malcolm Gittoes-Caesar, Coleman Greig Lawyers
Michael Seton, Ryan & Seton Lawyers
Pierce Carstensen, McInnes Wilson Lawyers
Reagan Wilson, Best Wilson Buckley Family Law
Financial Services
Astrid Raetze, Baker McKenzie
Claire Wivell Plater, The Fold Legal
Jon Ireland, Henry Davis York
Kate Jackson-Maynes, King & Wood Mallesons
Liz Hastilow, K&L Gates
Michael Vrisakis, Herbert Smith Freehills
Michelle Segaert, Squire Patton Boggs
Natalie Cambrell, Lander & Rogers
Nathan Hodge, King & Wood Mallesons
Scott Charaneka, Thomson Geer
Government
Andrew Rentoul, MinterEllison
Caroline Bush, Clayton Utz
Geoff Adams, Meyer Vandenberg
Stephen Jaggers, King & Wood Mallesons
Health
Alison Choy Flannigan, Holman Webb
Arthur Koumoukelis, Dentons
Ben McLaughlin, Baker McKenzie
Rob McInnes, DibbsBarker
Sabine Phillips, Gadens
Teresa Nicoletti, Mills Oakley
Insolvency
Dom Emmett, Gilbert + Tobin
James Marshall, Ashurst
Jason Opperman, K&L Gates
Mark Love, BAL Lawyers
Scott Atkins, Henry Davis York
Tim Klineberg, King & Wood Mallesons
Insurance
Alex Haslam, Gilchrist Connell
Deborah Templeman, Gilchrist Connell
Gillian Davidson, Sparke Helmore Lawyers
Katherine Ruschen, Mills Oakley
Intellectual Property
Chris Round, K&L Gates
Hayden Delaney, HopgoodGanim Lawyers
John Lee, Gilbert + Tobin
Julie Robb, Banki Haddock Fiora
Katrina Rathie, King & Wood Mallesons
Ken Philp, Bennett & Philp Lawyers
Scott Bouvier, King & Wood Mallesons
Shannon Platt, Sparke Helmore Lawyers
Stuart Green, DibbsBarker
Mergers and Acquisitions
Bruce Adkins, Corrs Chambers Westgarth
Diana Nicholson, King & Wood Mallesons
Nick Humphrey, K&L Gates
Peter Stirling, King & Wood Mallesons
Philippa Stone, Herbert Smith Freehills
Phillip Roberts, O'Loughlins Lawyers
Richard Partridge, Gadens
Rory Moriarty, Clayton Utz
Tim Gordon, Gilbert + Tobin
Wendy Rae, Allens
Migration
Alison Ryan, Refugee Advice Casework Service
Anne O'Donoghue, Immigration Solutions Lawyers
Chris Spentzaris, Fragomen
George Hanna, GMH Legal
Josh Chan, SHS Law
Native Title
Mark Geritz, Clayton Utz
Marshall McKenna, Gilbert + Tobin
Tony Denholder, Ashurst
Planning and Environment
Alan Bradbury, BAL Lawyers
Anthony Whealy, Mills Oakley
Jeff Lynn, Ashurst
Meg Lee, Gadens
Penny Murray, DibbsBarker
Samantha Daly, McCullough Robertson
Stan Kondilios, Hall & Wilcox
Pro Bono
Heidi Nash-Smith, Wotton + Kearney
Jeremy King, Corrs Chambers Westgarth
Mark Love, BAL Lawyers
Michael Anglin, Salvos Legal Humanitarian
Michael Ryland, Ashurst
Projects, Energy and Resources
Alan Maguire, Clayton Utz
Amanda Davidson, Davidson, Legal, Consulting, Advisory
Bruce Adkins, Corrs chambers Westgarth
Craig Rogers, King & Wood Mallesons
Jenni Hill, Clifford Chance
Luke Westmore, Mills Oakley
Samantha Daly, McCullough Robertson
Tanya Denning, Ashurst
Real Estate
Carl Black, Squire Patton Boggs
David Sinn, Herbert Smith Freehills
Diane Skapinker, K&L Gates
Felicity Savage, King & Wood Mallesons
James Ryan, Speirs Ryan
Matthew Rollason, DibbsBarker
Nikki Robinson, Clayton Utz
Robert Speirs, Speirs Ryan
Susan Proctor, BAL Lawyers
Virginia Briggs, MinterEllison
Taxation
Arthur Athanasiou, Thomson Geer
Betsy-Ann Howe, K&L Gates
Biljana Apostolova, Gadens Lawyers
Fletch Heinemann, Cooper Grace Ward Lawyers
Matthew Burgess, View Legal Pty Ltd
Michael Clough, King & Wood Malleson
Peter Bobbin, Argyle Lawyers
Paul Sokolowski, Arnold Bloch Leibler
Technology, Media and Communications
Dr Martyn Taylor, Norton Rose Fulbright
Matthew McMillan, Henry Davis York
Renae Lattey, King & Wood Mallesons
Robert Neely, Lander & Rogers
Simon Burns, Gilbert + Tobin
Workplace Relations
Alison Baker, Hall & Wilcox
Anthony Longland, Herbert Smith Freehills
Anthony Wood, Herbert Smith Freehills
Brett Feltham, DLA Piper Australia
Carlie Holt, Sparke Helmore Lawyers
Fay Calderone, DibbsBarker
Herb Fischbacher, MST Lawyers
John Wilson, BAL Lawyers
Sally Woodward, Norton Rose Fulbright
Sharlene Wellard, Meridian Lawyers