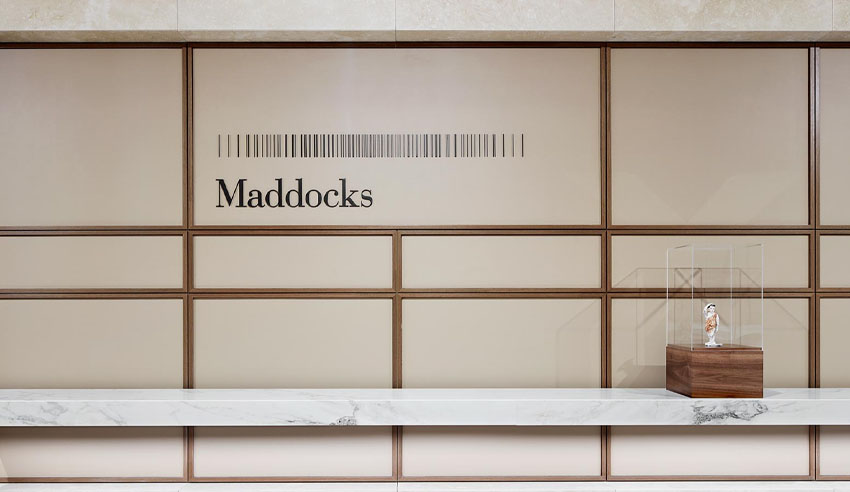 East Coast-based firm Maddocks has elevated 47 lawyers to new roles, including adding four to the partnership ranks.
Maddocks has unveiled its 2021 promotions round, which includes four new partners, nine new special counsel, 13 new senior associates and 21 new associates.
Its newest partners are Adam Jaques, Joshua Same, Michael Nicolazzo and Julian Law.
Maddocks chairman Mark Henry congratulated the quartet on joining the partnership ranks: "Adam, Joshua, Michael and Julian have displayed the characteristics and qualities that we value most in our people."
"They are committed to their clients and their colleagues, they strive for excellence in everything they do and they conduct themselves and their work with the highest levels of integrity," he proclaimed.
Elsewhere, the firm's newest special counsel are Elizabeth Lilley, Julia Tonkin, Shannon Derbyshire, Sunny Leow, Andrew McGlashan, Mark Todhunter, Erin Hourigan, Christopher Marsh and Brigid Clark.
The new senior associates are Rebecca Simmons, Rafael Perez, Xinyu Zhang, Zina Teoh, Jeremy Baker, Alexandra Yorston, Belinda Chapman, Andrea Jamieson, Emily Lau, Katie McClelland, Samantha Murphy, Melinda Norquay and Karen Zhang.
Finally, the firm's new associates are Isabella Pierri, Jack Coventry, Ari Armstrong, Georgia Koskinas, Max Curtis, Sasha Di Sipio, Eloise Daff, Maryam Popal, Fiachra Twomey, Charlie Wurm, Cynthia Mercuri, Rachel Grant, Joseph Kozlowski, Emily Read, Lucy Austin, Ida Nguyen, Hemant Vijaykumar, Jordan Cheung, Natalie Wendon, Alessandro Cowley and Jia Xiao.
Speaking about the non-partner promotions, Mr Henry said: "This is a fantastic group of talented lawyers who bring enormous energy and passion to the firm, and I wish them the very best in the next stage of their careers."
The news follows Wotton + Kearney elevating 34 lawyers to new roles, Holding Redlich elevating 45 lawyers across the country, global firms KWM and Allens promoting 63 staff and 24 staff respectively, McCullough Robertson elevating 16 to new positions, Moray & Agnew promoting 25 to new roles, Hall & Wilcox promoting 36 to senior roles, Dentons promoting 14 to new positions, and King & Wood Mallesons adding 10 to the partnership ranks.