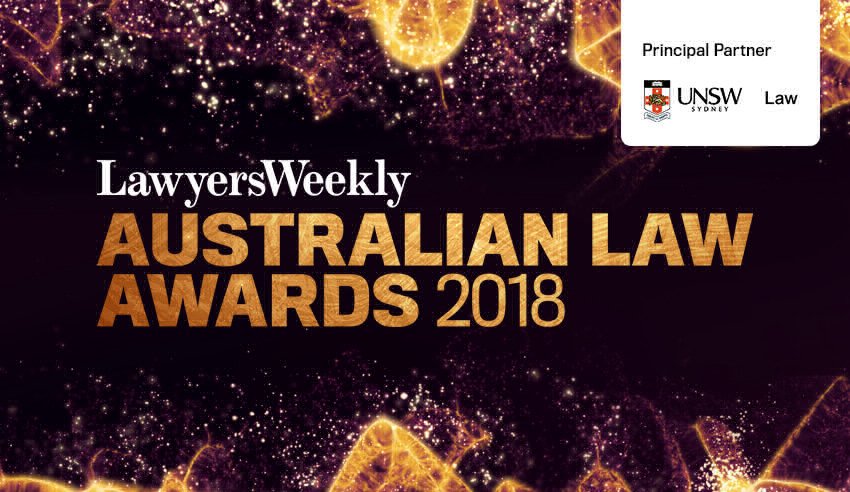 Lawyers Weekly, in partnership with UNSW, is pleased to reveal the finalists for this year's Australian Law Awards.
The Australian Law Awards is now in its 18th year, celebrating outstanding work being done across major legal practice areas, brilliance at the bar, legal in-house powerhouses, innovators and various firm-led pro bono programs.
With a record number of submissions, this year's Australian Law Awards is set to be bigger and better than ever, featuring over 30 blockbuster categories.
"The Australian Law Awards is the pinnacle of events for the nation's legal profession," said Lawyers Weekly editor Emma Ryan.
"This year's finalists radiate an outstanding level of professionalism, dedication and drive to take the business of law to greater heights, from the managing partners and general counsel to the barristers, legal scholars and young guns.
"It is our honour to host this event for the 18th year running. On behalf of the team, I'd like to congratulate all of this year's finalists. We look forward to celebrating with you soon."
Winners will be announced at a black-tie event being held at The Star Sydney on 31 August.
Be sure you don't miss out by booking a ticket here.
For more information about the event, click here.
The finalists for the 2018 Australian Law Awards are:
Academic of the Year
Amanda Kennedy, University of New England
Cassandra Seery, Deakin University
Francina Cantatore, Bond University
Jacques Duvenhage, The University of Notre Dame
Rosalind Dixon, UNSW Faculty of Law
Sharon Christensen, Queensland University of Technology

Barrister of the Year
Ivan Griscti, Level 22 Chambers
Katherine Brazenor, Victorian Bar
Nicholas Bender, Banco Chambers

Business Development Professional of the Year
Brenton Anderson, Dentons
Claire Falk, MinterEllison
Kathy Zmijewski, McDonald Murholme
Sharon Thompson, Ashurst

Dealmaker of the Year
Alberto Colla, MinterEllison
Benoir Bayssari, Madison Marcus
David Friedlander, King & Wood Mallesons
Garry Winter, WRP Legal & Advisory
George Bazouni, New South Lawyers
Grant Koch, DLA Piper
Julian Barclay, Ramsden Lawyers
Mark Stanbridge, Ashurst
Rebecca Maslen-Stannage, Herbert Smith Freehills
Shane Bilardi, Norton Rose Fulbright

General Counsel of the Year
Andrew Selim, Home Consortium
Belinda Ritchie, Arcadis Australia Pacific
Belinda Speirs, Suncorp Group Limited
Bruce Moore, Australian Red Cross Society
Cindy Hansen, Qudos Bank
Katerina Paras, illion Australia
Nigel Bond, Westpac Group
Simon Seguna, Samsung Electronics Australia

In-House Lawyer of the Year
Anu Ambikaipalan, Uber
Chris Mellor, Westpac
Desi Kuzmanovic, Brookfield Properties
Hayley Warren, RCR Tomlinson
Jacob Leslie, CPB Contractors
Jason Georgallis, SingTel Optus
Laura Paulus, Office of the National Rail Safety Regulator
Paul Gregory, WesTrac
Peter Le, Grand Hotel Group
Susannah Drinan, Uber Eats

Law Student of the Year
Alison Jones, University of Adelaide
Emily Reiher, Southern Cross University / Aitken Legal
Holly White, Swinburne University of Technology / Nevile & Co Commercial Lawyers
Joycelyn Tang, Curtin University / Equitas Lawyers
Khushaal Vyas, UNSW Law
Lucienne Galea, Victoria University / Nicholsons Lawyers & Consultants
Michael Jefferies, University of the Sunshine Coast / PwC
Mitchell McMartin, Western Sydney University / Clyde & Co
Molly Thomas, The University of Queensland
Neil Bookseller, Australian National University / Chamberlains

Legal Support Professional of the Year
Belinda Comber, Assured Legal Solutions
Cassie Gordon, Ryan & Seton Lawyers
Courtney McInnes, Herbert Smith Freehills
Dayna Gilbert, Helix Legal
Erin Anger, Lander & Rogers
Katie Thompson, Hive Legal
Kristel Sharpe, Hetherington Family Law
Lauren Milne, Madgwicks Lawyers
Louise Birnzwejg, Thynne + Macartney
Olga Gountras, Slater and Gordon Lawyers

Managing Partner of the Year
Anthony Wright, lexvoco
Bechara Shamieh, Madison Marcus
Danny Gilbert, Gilbert + Tobin
John Nerurker, Mills Oakley
Michael Harmer, Harmers Workplace Lawyers
Michelle Dixon, Maddocks
Rob Cutler, Clayton Utz
Dr Robert Silberstein, Silberstein & Associates
Tony Macvean, Hall & Wilcox
Wayne Spanner, Norton Rose Fulbright

Partner of the Year
Chrissy Leontios, CLEON Legal and Mediation Services
James Morris, Norton Rose Fulbright
Joel Zyngier, Gilchrist Connell
Karina Hafford, Slater and Gordon Lawyers
Lucinda Lyons, Clyde & Co
Michelle James, Maurice Blackburn Lawyers
Patrick Mead, Carter Newell Lawyers
Phil Breden, Ashurst
Philippa Stone, Herbert Smith Freehills
Veno Panicker, Blackstone Waterhouse

Regional/Suburban Lawyer of the Year
Anthony Ryan, Ryan & Seton Lawyers
Chun-Chi (Michael) Hung, ClearSky Legal
Diane Ruhl, Ruhl Family Law Centre
Joanne Alilovic, 3D HR Legal
Julian Barclay, Ramsden Lawyers
Sharell O'Brien, North Queensland Women's Legal Service
Sue Emery, Slater and Gordon Lawyers, Ballarat
Suzie Leask, Australian Business Lawyers & Advisors, Newcastle
Tanya Straguszi, Maurice Blackburn Lawyers, Cairns
Tom Burgoyne, Fortitude Legal

Rising Star of the Year
Amelia Sturton, Salvos Legal Humanitarian
Amy Zhang, Harmers Workplace Lawyers
Colette Downie, Ashurst
Damon Booth, Dentons
Dean Tolkin, Keypoint Law 
Elle McDermott, HopgoodGanim Lawyers
Jenny Leung, Gilbert + Tobin
Lena Chapple, Thales
Marina Kofman, White & Case
Paul Catchlove, Gadens

Senior Associate of the Year
Dean Tolkin, Keypoint Law (consulting via Sasphire Legal)
Eugene Tan, Clayton Utz
Helen Beech, Herbert Smith Freehills
James McNaught, Corrs Chambers Westgarth
Katie Gothard-Leigh, Jones Day
Liz Kofoed, Lander & Rogers
Matthew Burge, Gadens
Paula Nassif, King & Wood Mallesons
Peter Lettieri, Kalus Kenny Intelex
Petrina Schiavi, Hazelbrook Legal

Sole Practitioner of the Year
Anne Greenaway, Lawyers for Companion Animals
Chun-Chi (Michael) Hung, ClearSky Legal
Dorota Bryks, Bryks Lawyers
Gordon Smith, Gordon Smith Legal
Katherine Manby, VM Family Law
Kristi McCusker, KMC Legal
Marianne Marchesi, Legalite
Matthew Karakoulakis, AMK Law
Siobhan Mullins, Separate Together
Zinta Harris, Harris Law

Special Counsel of the Year
Amanda Humphreys, MST Lawyers
Angie Ng, Ashurst
Clare Miller, Gadens
Gillian Bristow, Cooper Grace Ward Lawyers
Jeanette Barbaro, MinterEllison
Jennifer Barron, Gilbert + Tobin
Nichola Di Muzio, Thynne + Macartney
Rebecca Dunn, Gilbert + Tobin
Richard Campbell, MinterEllison
Samy Mansour, Clayton Utz

Banking and Finance Team of the Year
Allen & Overy
Allens
Ashurst
Clayton Utz
Dentons
Hall & Wilcox Lawyers
Herbert Smith Freehills
King & Wood Mallesons
Madison Marcus
Norton Rose Fulbright

Commercial Team of the Year
Allens
Arnold Bloch Leibler
Australian Business Lawyers & Advisors
Cooper Grace Ward Lawyers
Gadens
Herbert Smith Freehills
MinterEllison
Norton Rose Fulbright
Piper Alderman
Tisher Liner FC Law

Dispute Resolution Team of the Year
Allen & Overy
Australian Government Solicitor
Gilbert + Tobin
Hall & Wilcox Lawyers
King & Wood Mallesons
McCabe Curwood (formally known as McCabes Lawyers)
Squire Patton Boggs
Thynne + Macartney
William James
William Roberts Lawyers

Energy and Resources Team of the Year
Allen & Overy
Allens
Ashurst
Baker McKenzie
Carter Newell Lawyers
Corrs Chambers Westgarth
Herbert Smith Freehills
Hive Legal
King & Wood Mallesons
Norton Rose Fulbright

Government Team of the Year
Allens
Ashurst
Clayton Utz
Herbert Smith Freehills
King & Wood Mallesons
Maddocks
Proximity
Redenbach Lee Lawyers
Sparke Helmore Lawyers

In-house Team of the Year
AIA Australia & New Zealand
Cotton On Group
Dexus
Incitec Pivot Limited
REA Group
Samsung Electronics Australia
TAL
Uber Australia and New Zealand

Insurance Team of the Year
AIA Australia & New Zealand
Barry.Nilsson.
Carter Newell Lawyers
Gilchrist Connell
Hall & Wilcox Lawyers
Maurice Blackburn Lawyers
Meridian Lawyers
Norton Rose Fulbright
Sparke Helmore Lawyers
William Roberts Lawyers

Intellectual Property Team of the Year
Allens
Ashurst
Clayton Utz
Gilbert + Tobin
Griffith Hack
King & Wood Mallesons
McCullough Robertson
Mills Oakley
Sparke Helmore Lawyers
Wrays | Intellectual Property, Trademark & Patent Attorneys

Property Team of the Year
Allens
Clayton Utz
Commercial and Legal (Legal Services)
Gadens
Kalus Kenny Intelex
King & Wood Mallesons
Madgwicks Lawyers
MinterEllison
Speirs Ryan
Tisher Liner FC Law

Transaction Team of the Year
Allens
Ashurst
Clayton Utz
DLA Piper
Gilbert + Tobin
Herbert Smith Freehills
Kain Lawyers
King & Wood Mallesons
McCullough Robertson
MinterEllison

Workplace Relations and Employment Team of the Year
Australian Business Lawyers & Advisors
Clayton Utz
Corrs Chambers Westgarth
Danny King Legal
Harmers Workplace Lawyers
Holman Webb Lawyers
HR Legal
Macpherson Kelley Lawyers
Maddocks
Piper Alderman

Boutique Law Firm of the Year
Civic Legal
Donaldson Law
DVM Law
Keypoint Law
NDA Law
Phi Finney McDonald
Rankin
Silberstein & Associates
Sinclair + May
Speirs Ryan

Employee Program of the Year
Ashurst
Carter Newell Lawyers
Clayton Utz
Cooper Grace Ward Lawyers
DLA Piper
Madison Marcus
New South Lawyers
Norton Rose Fulbright

Innovator of the Year
Allens
Dentons
Gilbert + Tobin
GRT Lawyers
GTC Lawyers
Law Quarter
Lawcadia
LOD - Lawyers On Demand
Maddocks
Norton Rose Fulbright

Law Firm of the Year
Allens
Ashurst
Clayton Utz
Dentons
DLA Piper
Gilbert + Tobin
Herbert Smith Freehills
King & Wood Mallesons
Meridian Lawyers
Sparke Helmore Lawyers

NewLaw Firm of the Year
ethics4lawyers
GTC Lawyers
Helix Legal
Law Squared
LegalVision
lexvoco
LOD - Lawyers On Demand
Polaris Lawyers
Proximity
Settify

Pro Bono Program of the Year
Ashurst
Colin Biggers & Paisley
DLA Piper
Estrin Saul Lawyers
Gadens
Gilbert + Tobin
Herbert Smith Freehills
HopgoodGanim Lawyers
Maurice Blackburn Lawyers
Salvos Legal

Regional/Suburban Law Firm of the Year
BGM Family Lawyers
Enterprise Legal
Harwood Andrews
HHG Legal Group
lawlab, Nyngan
Morgan + English Commercial Lawyers
Range Lawyers
RMB Lawyers, Wollongong
Southern Waters Legal
SWS Lawyers