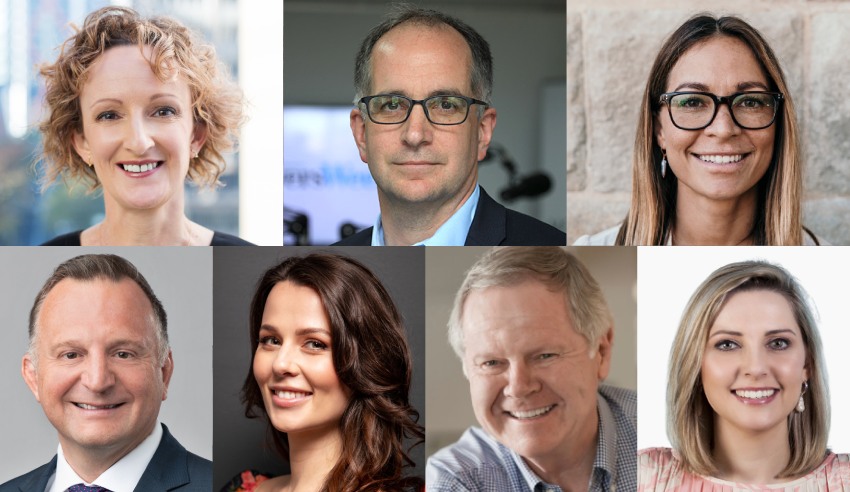 Following a successful trial of four-day weeks in Iceland, Australia's legal profession can and must be exploring new and creative workplace arrangements for the new normal.
In recent weeks, international media outlets reported on the overwhelming success of trials run by the Reykjavík City Council in Iceland, between 2015 and 2019, to move workers to four-day weeks.
The trials, reports detailed, led unions to renegotiate working patters, resulted in workers feeling less stressed and at reduced risk of burning out, with improved senses of work/life balance and more time to spend with families. Similar trials are now being held in Spain and New Zealand to determine the viability of such professional shifts moving forward.
In mid-2019, Lawyers Weekly spoke with Canon Oceania chief legal officer David Field (pictured, centre) and Swaab managing partner Mary Digiglio (pictured, top left) on The Lawyers Weekly Show, following a similar successful trial by a UK-based law firm about the prospect of Australia's legal profession moving to four-day weeks. The pair (with whom this writer works as board directors for the Minds Count Foundation) reflected on the pros and cons of such a move in Australia.
In the wake of the Icelandic trials, and non-traditional working arrangements becoming more mainstream since the onset of the COVID-19 pandemic, it is worth considering whether – given the increased urgency in implementing diversity and inclusion initiatives, as well as movement towards greater idiosyncratic accommodations for workplace productivity – the time for four-day working weeks for lawyers has arrived.
Successful case study
It is possible, if not likely, that some lawyers would perceive an extra day off work each week to be an indulgence. Jaide Law founder Malisa Howard (pictured, top right) disproved that.
Her firm name, in French, means "I help". As she recently discussed on The Boutique Lawyer Show, she blocks out days in her fortnightly calendar to volunteer with causes she is passionate about, namely environmental preservation and protection and victims of sexual servitude and slavery.
Despite its founder and principal not being tied to the desk five days a week, Jaide Law continues to grow and thrive, Ms Howard said, and provides services to various charities too.
"The essence of law is to help", she believes, and having extra days up her sleeve to, metaphorically, roll up her sleeves and serve others, makes her a better lawyer for when she is practising.
Speaking again to Lawyers Weekly, Ms Howard advised that creating extra time in one's weekly schedule comes down to routine and structure.
"With my pro bono work, I find that having a structure and routine in place which allows me to consistently block out time from my firm to work on other causes is really helpful. If you want it to work, you need to be strict with yourself and think of that time as a non-negotiable and, if you can do that, you will find that you will be able to manage your clients and matters in order to work around that schedule (barring the unforeseen client emergency every now and then)," she explained.
"Having said that, you also need to be adaptive and recognise the changing needs of your firm, which might mean revisiting the structure, if need be, and tweaking it to ensure it can still work."
Creativity and flexibility, Ms Howard surmised, are key.
"For a non-traditional work structure to be most effective, it's important to have discussions with your staff to figure out what works best for your business and for your staff," she said.
The age of coronavirus, Ms Howard pointed out, makes such working arrangements more plausible.
"Throughout this pandemic, whilst we have seen that people can work remotely without compromising the quality of their work, we have also seen many people (particularly lawyers) burning out and struggling to maintain their mental wellbeing, particularly when they feel like they're not getting the time they need to reset and recharge," she reflected.
This said, legal employers have to ensure that accommodations for four-day weeks are amenable to all relevant stakeholders, she noted.
"For a four-day week to work most effectively for law firms, it would ideally need to be embraced by a large number of industries and stakeholders (i.e. by our clients as well). Otherwise, we might (and probably would) have certain clients needing matters transacted or finalised on that particular day," she said.
"Through focussing on the positive outcomes of trials overseas (for example, the recent study in Iceland), we can hopefully shift the perception from 'taking extra time off' to 'working more efficiently in our time on', given that overall productivity should not be affected (or, if this study is anything to go off, productivity might actually increase)."
The prospect of four-day weeks becoming more mainstream is a hugely exciting one for Ms Howard: "At the end of the day, I'm a human being (shocking revelation from a law firm owner) and I can feel worn down and overworked just like anyone else."
"When you're working full-time, your weekends are spent doing life admin and it's very easy to get to Sunday afternoon and not feel particularly refreshed or relaxed, then to start the work week all over again," she outlined.
"The more refreshed we are, the more productive and incentivised we should be (not to mention happier) – who wouldn't want that for themselves and their staff?!"
Should leaders be facilitating four-day weeks?
The unfortunate circumstances of COVID-19 present the "perfect environment" for trialling fundamental changes in workings schedules, Ms Digiglio declared.
"I'd much prefer to work 3:00am-3:00pm rather than 7:00am-7:00pm. I would be more productive, happier and I don't think it would impact client satisfaction. In fact, I think it might even increase it because I would be more productive between 3:00am-9:00am than I am at any other time of the day. The four-day working week is just another variation on flexibility of working hours," she said. 
"The forced necessity (brought about by COVID-19) for law firms to change the way they view the working day, let alone the working week, has seen a significant shift in the thinking of a lot of naysayers."
Mr Field agreed, noting that diversity and inclusion "fuels creativity and diversity-of-thought in the workforce", and thus should be a priority in trying to create a capable and resilient legal team.
"The vast majority of my legal team is, in fact, already part-time. That works for us, because it gives us the ability to source talented, capable lawyers to solve problems or look after areas that don't necessarily justify a full-time legal resource. With part-time resources, it's important that we spread our coverage across the week to make sure that there is always someone available for any urgent issues that arise," he outlined.
Since the birth of her daughter 11 years ago, Ms Digiglio has worked odd hours. She still cops flak for this from other practitioners, she mused – some of it out of concern, and other times, by way of criticism.
"If you don't know me, you could be forgiven for thinking I don't have a work-life balance. However, what some people don't appreciate is that going to bed at 9:00pm (when my daughter goes to bed) and waking up at 3:00am enables my daughter and I to hang out at night, do 'mummy/daughter' stuff together and spend quality time debriefing each other on our respective days whilst sitting on her bed," she explained.
"Usually, we both naturally fall asleep together. It's a ritual which I treasure. For this reason, I am open minded about how people choose to work, provided client service is not compromised. If anything, COVID-19 has opened my mind even more."
In light of this, Ms Digiglio deduced, the concept of an extra day (that is not a day over the weekend) "could be a game changer on the wellbeing front".
"If you have children, it gives you a day to either do things you can't do as easily with children, or in the case of having elderly or sick parents, it enables you to take them to medical appointments, which are only available during the business week. I think it creates more opportunity for 'me time' in a world where that concept is becoming more challenging," she said.
In order for this to become a more feasible reality, Mr Field noted, expectations and boundaries would have to be clearly communicated.
"While the legal team does play a leadership role in shaping the organisation's culture, at the end of the day, generally it needs to align with how the rest of the business is working. If the legal team were going to try to adopt a new model on its own, clear communication with stakeholders and resetting expectations would be absolutely critical. If you haven't won the support of the business for the new model, you will struggle to defend it and sustain it," he warned.
One of the biggest benefits, he continued, would be creating a situation where it was clear that expectations had changed across the board. 
"If the entire business is working to a four-day week, that would create similar cultural norms where everyone knew that work simply would not be done on the fifth day. Everyone would shape their expectations of their colleagues accordingly. It can be particularly difficult for people working part-time to defend their boundaries around days when they are not working but the rest of the team is. An across-the-board four-day week would help to relieve that pressure," he said.
This said, the financial questions would need answering, Ms Digiglio stressed.
"One aspect which I do question is how organisations can afford to reduce working hours by 20 per cent and still pay their people same rate. I question the financial viability of this proposition. Perhaps it works if there is no drop-in productivity but it is hard to accept that someone can reduce a working day and without any other change, become more productive, even if they are happier," she said.
Psychological benefits
From a psychological perspective, author and neuropsychologist Dr Hannah Korrel (pictured, bottom, second from left) said, four-day working weeks are attractive to those in professional services as it allows for more personal time.
"Research into shortening hours has consistently shown that staff who trialled shorter work weeks opt for continuing with reduced hours when given a choice, even if it means less pay in their pockets," she advised.
"This is thought to be because individuals better realise the value of their time, as opposed to money in a pay slip. An entire extra free day of time is worth more to them than a little bit more money. This is the concept of realising the true value of your time."
For lawyers, who (statistically speaking) have higher rates of psychological distress, anxiety, depression and suicide ideation than most if not all other professional services industries, four-day weeks may be beneficial given that many are already working longer than the standard nine-to-five, Dr Korrel continued.
"Let's face it, lawyers are always going to do overtime, because that's the culture and demands of the industry right now. An enforced extra day off is a small push towards more time for the individual to recuperate," she noted.
"Yes, many are likely to work through (like those who work on the weekends), but at the very least this measure would be carving out an additional day for rest, which is a lot better than nothing!"
Such an approach will be especially pertinent, Dr Korrel added, given that research into the habits of lawyers during the age of coronavirus has highlighted increased blurring of lines between when one starts and finishes the working day.
"Lawyers are more likely to work after hours because their laptops/emails/work is much more accessible. I do think COVID-19 means we need to reinvent how we work in terms of our medium of communication, but I also think that a very important consideration about 'working during COVID-19' is that lawyers pay close attention to the boundaries of their hours," she suggested.
"Respect and value your time by knowing if you work past 5:00pm and on weekends – you are working for free.
"You are worth being paid, and your mental health is certainly worth more than $0 per hour. If the jobs need more hours, the organisation will only recognise that when lawyers stop covering the extra time out of their own pocket. You are worth more than working for free."
Recruitment perspective
When asked how employers that offer arrangements such as four-day weeks will be perceived by prospective candidates, Taylor Root head of Australia and partner Hayden Gordine (pictured, bottom left) said they will be viewed "positively", but added the caveat that lawyers on part-time hours often end up working longer and not getting paid accordingly.
"The advantage, however, is that you can turn off on fifth day so employers who can truly provide cover on a lawyer's day off will really see the benefit of a four-day week," he mused.
"In reality, could a law firm move to a four-day working week? Perhaps, but it is more realistic that this will be lead from the corporate sector well before the legal sector. Therefore, lawyers working in-house are likely to experience a four-day working week long before a private practice lawyer."
For certain sectors like NewLaw, start-ups and boutique law firms, Mr Gordine said, it will become "critical" to offer creative arrangements if they are to attract lawyers from the top-tier employers.
"Lawyers join the top-tier firm for access to the best quality of work, but a level of 'new age' thinking would go a long way in retaining some of the talent they lose to the in-house environment," he submitted. 
For individuals seeking such arrangements, he said that asking for a different working week will ultimately depend on what one wants to achieve with their career.
"I don't think you can demand anything, but it is perfectly reasonable to request a four-day working week especially if you have given time and thought about how it will impact your delivery of the law and how it will affect your clients and colleagues."
Being progressive and pro-women
beaton partners George Beaton and Kim Wiegand (both pictured, bottom right) said that employers that are more inclined to offer flexibility such as four-day weeks are more likely to be seen as progressive and supportive of women rising through the ranks.
"In the client markets the reactions will range from 'that's progressive, provided no service to clients or quality are compromised' to 'it's probably a fad that will pass'. But the talent market will see it as progressive," Mr Beaton explained, adding that professionals are increasingly leaving firms for in-house roles or jobs outside of law as they seek greater accommodations for personal needs.
Such "new age thinking", he noted, is "increasingly a critical success factor".
Ms Wiegand said: "With an industry workforce of over 50 per cent female, but significant numbers leaving at senior levels, many citing flexibility, [four-day weeks] could support retaining women longer and change the landscape for both men and women to focus on their own wellbeing, and that of their families."
Such holistic changes, she surmised, could act as a stabiliser in supporting equality across the industry, particularly against the backdrop of concerns about lack of visibility as women look to take greater advantage of more flexible working options.
Women in law should heed the advice of former prime minister Julia Gillard, Ms Wiegand pointed out.
"The increasingly competitive nature of the legal market for top talent will inevitably mean that candidates will not only look for innovative options around flexibility but expect firms to meet their requests more than halfway perhaps as a key differentiator," she said.
"With a shift and growth in the movement of women into in-house senior roles acting as the purchasing decision maker, demonstrating these attributes may be of more value than being on tap 24/7."