The top 10 news updates that law students must know today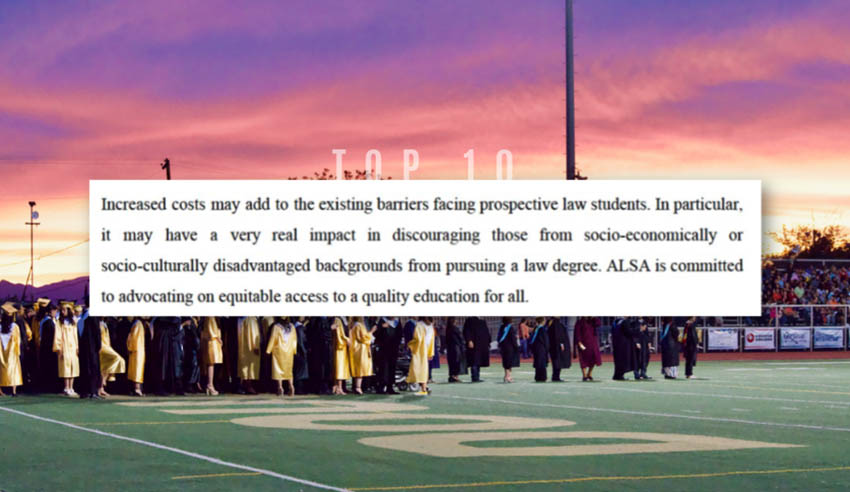 Lawyers Weekly's Protégé brings young lawyers the most important updates from over the last fortnight, from historic appointments to promoting diversity in the law. 
1: ALSA warns fees increase will deter diverse future lawyers from profession
Up first, the Australian Law Students Association has rejected the proposal to increase university fees for law students, cautioning that the increases would deter different and diverse groups of students from the legal profession. The federal government's major push comes at a time when the profession desperately needs more diversity. 
2: Victoria Police apology sensationally backfires in new inquiry submissions
In yet another exciting Lawyer X update – and in an article that probably just deserves a ton of fire emojis – the counsel assisting the inquiry have accused Victoria Police of trying to get out of passing individual blame in its most recent apology. The sensational criticisms come as counsel assisting poke holes in recent allegations against them. 
3: Women's Legal Service appeals for $25m to address chronic underfunding
With chronic underfunding to family violence legal assistance turning away 40 per cent of victims, Women's Legal Services Australia has appealed for a rescue package. The annual $25 million would be critical in assisting women desperate for legal assistance. 
4: 'It is not the fault of the curfew': Supreme Court curfew challenge continues
The solicitor-general representing the health bureaucrat behind Melbourne's citywide temporary curfew has continued to discredit the argument that the direction had in any way breached the human rights of one particular resident before the Supreme Court. Lawyers Weekly has been following the trial all week and will continue to update soon. 
5: 'Australia allowing human rights violations of people with disability'
Australia needs to remedy its flawed interpretation of the United Nation's Convention on the Rights of Persons with Disabilities which is allowing human rights violations to occur, a new research paper by the University of New South Wales has found. 
6: HSF clarifies reports that it underpaid junior staff more than $20k
Herbert Smith Freehills has completed an in-depth review of its remuneration process, revealing it owed graduate staff additional payments between $5,000 and $20,000. It comes after a string of other BigLaw firms also revealed graduate underpayments. 
7: NSW Drug Court proven effective at reducing risk of reconviction
New research from BOCSAR has revealed the NSW Drug Court has led to significantly lower reconviction rates among offenders diverted through its program. Opting to treat drug-related offenders rather than sending them to prison has been proven effective, according to research from the NSW Bureau of Crime Statistics and Research.
8: Profession mourns loss of Age Discrimination Commissioner Susan Ryan
The political and legal professions have mourned the loss of Susan Ryan, praising her work as a role model and trailblazer who forever changed both sectors for the better. 
9: Westpac agrees to 'largest-ever civil penalty in Australian history'
Banking and financial services giant Westpac reached an agreement with AUSTRAC to pay $1.3 billion for breaching anti-money laundering and counter-terrorism financing laws. In an agreed statement of facts, Westpac admitted to over 23 million breaches. 
10: Law Society welcomes first female president, vice-president's team
The ACT Law Society announced a new executive committee, headed up by president Elizabeth Carroll and vice-presidents Sarah Avery and Farzana Choudhry. For the first time since its formation in 1933, the Law Society has appointed three women to the top of the executive committee, hailing in a new era in female leadership.