Rising popularity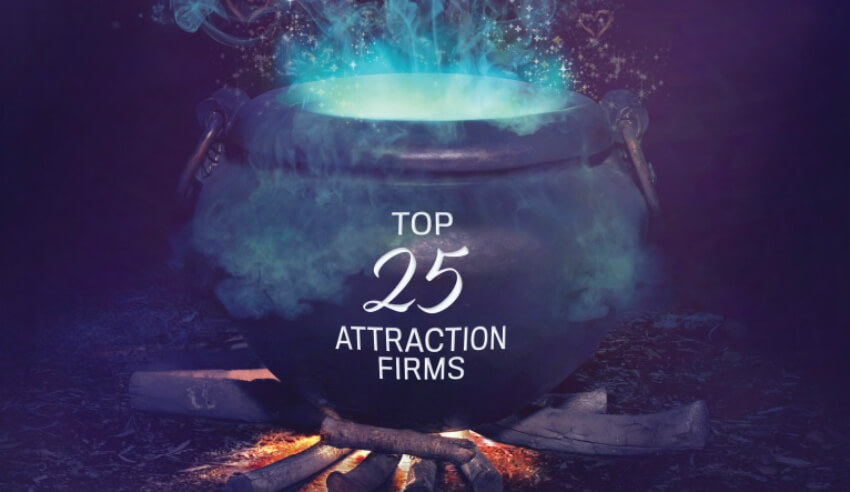 Which legal businesses have lawyers spellbound to claim a place among this year's Top 25 Attraction Firms?  
If the song lyrics from much-loved musical Wicked are anything to go by – "It's not about aptitude; it's the way you're viewed, so it's very shrewd to be very, very popular like me!"
You can almost hear the chorus being hummed by sharply dressed lawyers across the country as they make their daily commute into the major central business districts of Australia.
Of course, brand reputation is serious currency for law firms. Certainly far more serious than a playful exchange about popularity between two witches in a Broadway musical. Yet there is an elegant parallel between the magical magnetism of Wicked's Glinda and that special combination of ingredients that make law firms favoured among legal talent and clients alike.
It is accepted in part that the secret boils down to the right mix of business prowess, workplace culture and a potent recipe for innovation. But an accurate assessment of which firms are seen to fly higher than the rest is difficult unless you put the question directly to those that matter. So we did just that.
The Lawyers Weekly Employer of Choice Survey asked lawyers which law firm they would most likely consider moving to if they ever decided to leave their current firm. The resulting response is the Top 25 Attraction Firms ranking which follows.
What the top 25 list reveals is no matter partner headcount or Australian market stake in dollar terms, no firm can be complacent in this ever-changing business climate.
Questions put to this year's five most attractive firms also indicate that while law firms generally aim to hit the same notes in terms of talent retention, innovation, initiatives to collaborate with clients, and revenue growth, the magic ingredient for attraction lies elsewhere. The combination of these things does matter to lawyers, as well as opportunities to launch careers in a way that is alive to the borderless reality and technological advances of modern business. But what resonates and persuades a great many talented lawyers to want to join a firm, is how authentically that business presents itself.
It would seem that those firms willing to hold an honest mirror up to themselves and reflect back their truest, best parts, present as strategic and desirable places for Australia's best lawyers to go to.
Methodology
The results of the Top 25 Attraction Firms ranking were based on exclusive research conducted by Momentum Intelligence. On account of two tied rankings, the 2017 top 25 list actually features 26 ranked firms.
The ranking is informed by one question from the Lawyers Weekly Employer of Choice Survey. A total of 581 respondents answered the question: 'What type of legal firm would you most likely consider a move to if you ever decided to leave your current legal firm?' (more than one firm could be selected).
This year, a quantitative research method was adopted, with participants asked to complete a self-administered questionnaire promoted via the Lawyers Weekly website and eDMs.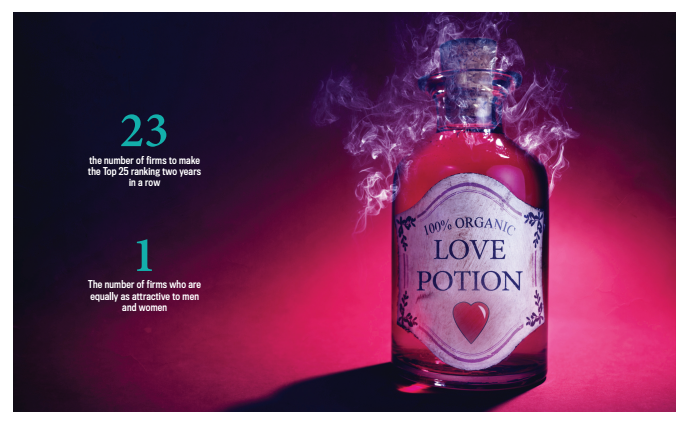 25 (tied)
Maddocks
Percentage: 4.50% Ranking: < 2015: 20
Gender split: Male 50% Female 50%
National contender Maddocks has broken into the top 25, with some big gains in the last year. In 2015 the mid-tier was chosen as a top 20 attraction firm, only to be edged off the list in 2016.
Maddocks recently announced that it would be welcoming DLA Piper's entire government team to its Canberra office. The national firm has two other offices in Sydney and Melbourne and operates with an equal profit-share partnership.
25 (tied)
Henry Davis York
Percentage: 4.50% Ranking: < 2016: 12
Gender split: Male 61.50% Female 38.50%
With a 125-year-old legacy, this will be the last time mid-tier stalwart HDY features on this list. The national firm is currently in the midst of a tie-up with global monolith Norton Rose Fulbright.
In announcing the intention to combine with NRF, the firm said that it was joining the global's ambitions to modernise its legal services business according to a 2020 business transformation strategy. A number of HDY partners resisted the merger and quit before the combination of both firms was finalised.
24
KPMG Legal
Percentage: 4.60% Ranking: < 2016: 17
Gender split: Male 60% Female 40%
The legal services branch of this big four accounting firm slipped a few places from its number 17 rank as a new entrant last year. Nevertheless, KPMG's legal arm has been actively developing its corporate, employment and property offerings over the last 12 months.
Earlier this year, the group announced that it had appointed Michael Rose AM, former chief executive of Allens, to advise the firm's leadership on a range of growth initiatives. The ex-Allens boss would also be coaching KPMG leaders, a statement from the firm said.
22 (tied)
Deloitte Legal
Percentage: 4.80% Ranking: > 2016: 25
Gender split: Male 53.80% Female 46.20%
A neat shot up three places from last year, the team at Deloitte Legal was first among the accounting firm breeds to take instructions for a matter that went to the High Court of Australia.
The group offers legal services for commercial law, employment law, industry regulation and tax matters. The national leader of the legal practice is based in Melbourne.
22 (tied)
Clyde & Co
Percentage: 4.80% Ranking: < 2016: 21
Gender split: Male 51.90% Female 48.10%
This international firm has made confident headway in building its Australian team, since landing on local shores in 2012. The Aussie team now includes 23 partners with 120 legal personnel across its offices in Brisbane, Melbourne, Perth and Sydney.
Clyde & Co's Australian presence is focused on regional business, advising on a number of investment opportunities for clients throughout the Asia-Pacific.
21
Moray & Agnew
Percentage: 5.30% Ranking: > 2015: 25
Gender split: Male 44.40% Female 55.60%
After making the cut in 2015, this national firm was knocked off the top 25 rankings last year. Now it's edged daringly close to the 20 most attractive law firms in Australia.
Established 70 years ago, Moray & Agnew has offices spanning in Brisbane, Newcastle, Sydney, Canberra, Melbourne and Perth. The firm claims to have tripled in size over the last 10 years, today boasting 95 partners.
19 (tied)
Percentage: 5.50% Ranking: > 2016: 24
Gender split: Male 46.40% Female 53.60%
This independent business law firm has been steadily rising in popularity over the years, moving from 24th to 19th place. Hall & Wilcox has carved out a strong reputation among Australian and multinational clients, with a partnership numbering about 70 members.
The mid-tier is driven by its "smarter law" strategy and has offices in Brisbane, Sydney, Canberra, Melbourne, Perth and Newcastle. In June, the national firm announced an exciting merger with local established Novacastrian boutique Harris Wheeler Lawyers.
19 (tied)
Percentage: 5.50% Ranking: < 2016: 10
Gender split: Male 58.10% Female 41.90%
Despite dropping a spot since last year, Clifford Chance remains in the top 20 for most attractive firms. Its Australian offices focus on corporate, baking & finance, litigation & dispute resolution, and anti-trust & competition.
The international firm's last reported results were strongest in the Asia-Pacific, which saw revenue growth rise by 23 per cent in comparison to last year. The Clifford Chance Singapore and Greater China offices act as the firm's hub for work in South-East Asia.
18
Percentage: 5.70% Ranking: < 2016: 15
Gender split: Male 31.20% Female 68.80%
K&L Gates has slid into 18th place, with just over 5 per cent of respondents nominating the international firm as an appealing pick. The firm holds offices in Sydney, Melbourne and Perth, and cites itself as a "fully integrated" business with lawyers located across five continents.
17
Percentage: 5.90% Ranking: > 2016: 20
Gender split: Male 43.30% Female 56.70%
This Sydney-based mid-tier firm has climbed four spots from its 2016 ranking to number 17. The commercial firm has 10 offices across Australia, from Alice Springs to Hobart.
HWL Ebsworth's latest partner count is numbered 213, with a total of more than 1,000 staff. The firm is known for growing strong legal talent, with a number of competitors circling to tempt lawyers across via lateral hires.
16
DLA Piper
Percentage: 6% Ranking: < 2016: 13
Gender split: Male 45.50% Female 54.50%
Global firm DLA Piper has dropped three places from last year's result, with a mixed year of kicking big goals as well as being the target of a major international cyber security breach.
DLA's Australian lawyers have been involved in some big and fascinating matters, recently securing a major human rights win on behalf of a NSW resident before the United Nations Human Rights Committee on the issue of discrimination of trans citizens.
In April, the firm announced that it would be closing its Canberra office, which was a coup for mid-tier competitor Maddocks who swooped in on DLA Piper's gun government team. DLA's remaining Australian posts are located in Brisbane, Sydney, Melbourne and Perth.
15
Percentage: 6.50% Ranking: > 2016: 23
Gender split: Male 40.50% Female 59.50%
Mills Oakley has bumped several places to increase its attraction ranking for 2017. The firm aims to be a domestic leader in catering to ASX200 listed companies, the public sector and not-for-profits.
In August the national firm announced that it had recruited two new partners from DLA Piper and K&L Gates respectively, suggesting it has a lateral hire track record to affirm Mills' popularity.
13 (tied)
Lander & Rogers
Percentage: 6.70% Ranking: > 2016: 19
Gender split: Male 34.20% Female 65.80%
With offices in Brisbane, Sydney and Melbourne, this Australian firm has boosted its attractiveness to share 13th spot with Jones Day.
Established in Victoria in 1938, the "fiercely independent" firm services the financial services, insurance, government, infrastructure, real estate and retail & supply chain sectors. It also has practices in family & relationship law and property, projects & infrastructure.
13 (tied)
Jones Day
Percentage: 6.70% Ranking: > 2016: 21
Gender split: Male 55.60% Female 44.40%
With over 6 per cent of respondents choosing Jones Day as an attractive firm to join, the US-based international firm has three offices in Australia.
Jones Day has an equally strong reputation among clients, this year topping the list of most recommended law firms for client relationships as determined by BTI Consulting.
12
Percentage: 7.40% Ranking: < 2016: 8
Gender split: Male 52.50% Female 47.50%
Allen & Overy has two offices in Australia, located in Sydney and Perth.
The elite global firm has advised on a number of major transactions this year, including the $1.6 billion privatisation of South Australia's transactional land services and the acquisition of majority shares in a Zambian copper mine by an Australian private equity manager worth US$97.10 million.
11
Percentage: 8.10% Ranking: < 2016: 10
Gender split: Male 37.80% Female 62.20%
The reported global revenue of this mega-firm for the fiscal year ending 30 June 2017 was $2.67 billion. Bakers claims to be the most diverse global law firm, with revenues spread across regions all growing by 4 per cent or more.
This past year the firm has shown strong leadership in advocating for LGBTIQ rights and same-sex marriage in Australia. In August, national managing partner Anthony Foley reiterated the firm's backing for marriage equality, saying that Bakers is committed to creating and maintaining a supportive and inclusive working environment.
10
Norton Rose Fulbright
Percentage: 8.30% Ranking: < 2016: 7
Gender split: Male 46.80% Female 53.20%
The ranking for NRF has slipped a few spots from last year but the global firm says it is committed to growing its "critical mass" in Australia. In June the firm announced that an overwhelming majority of its partnership voted in favour of merging with mid-tier firm HDY.
When the tie-up is finalised by the end of this calendar year, NRF will have offices in Brisbane, Sydney, Canberra, Melbourne and Perth.
8 (tied)
Percentage: 9% Ranking: > 2016: 14
Gender split: Male 55.10% Female 44.90%
Corrs Chambers Westgarth has skyrocketed six spots from last year to share the eighth place with Clayton Utz. The independent Australian firm is a leader among the remaining legal services businesses as a number of mid-tier competitors are forced to merge with bigger players to stay in the game.
In February the firm made headlines when it was crowned leading firm in Australia and the Asia-Pacific, beating out other mega-firms as a law firm of preference for in-house lawyers.
8 (tied)
Clayton Utz
Percentage: 9% Ranking: 2016: Unchanged
Gender split: Male 58% Female 42%
This heavy-hitting national firm has secured a spot in the top 10 most attractive firms for Aussie Lawyers. It is one of the few law firms with an established office in Darwin and also has shopfronts in Brisbane, Canberra, Melbourne, Sydney and Perth.
Clayton Utz is a Workplace Gender Equality Agency Employer of Choice and a breastfeeding-friendly accredited workplace. It is known to have one of the most flexible leave schemes among Australian law firms and a business that champions diversity.
7
Percentage: 9.60% Ranking: > 2016: 16
Gender split: Male 51.90% Female 48.10%
PwC Legal has made the greatest gains in Attraction Firm ranking of the big four accounting firms. The group says that it is pressing on with plans to build a "premium legal offering" in areas aligned to its other service branches in tax, deals, assurance and consulting.
In the last year, PwC Legal has appointed 14 new high-profile partners in Australia, bringing the total partner headcount to 24. The firm said that it had also recruited extra 30 lawyers to take its legal team cohort up to about 100 staff.
6 
Percentage: 9.80% Ranking: 2016: Unchanged
Gender split: Male 45.50% Female 54.50%
Gilbert + Tobin is a leading stalwart among Australian mid-tiers and will mark 30 years' practice in 2018.
The commercial Aussie firm remains among the six most favoured law firms, the same respectable place it held in 2016, jumping six spots from 12th place where it ranked in 2015.
According to chief operating officer and partner Sam Nickless, the firm's business structure gives talented lawyers a direct opportunity to take on quality work.
He believes Gilbert + Tobin's business framework, along with a culture that is open, informal and creative, are major drawcards that attract legal talent to the national firm.
"The reputation of our leading partners attract talented people who are excited about the opportunity to do great work and learn from the best. [Gilbert + Tobin] is well-known as having a flat structure and lower-leverage model, providing outstanding direct exposure for our lawyers, to our partners in action," Mr Nickless says.
TOP FIVE FAVOURITES
5
Percentage: 11.20% Ranking: Unchanged
Gender split: Male 50.80% Female 49.20%
Ashurst again made the top five cut, while improving its attraction percentage by 0.70 points. The full-service global powerhouse has grown a number of its practice groups, including its Australian M&A and structured finance teams.
Richard Knox, head of human resources for Ashurst Australia, says that the firm has witnessed an unprecedented change in the legal services sector in the last five years. He suggests that this shift has opened new opportunities for clients and lawyers alike.
"This includes growing Ashurst Advance by expanding our team of legal analysts, project managers and legal technologists," Mr Knox says.
"We have also grown a number of practice groups, notably M&A and structured finance in Australia, and have introduced a new practice management system. These have been strategic investments in the business, which will create a framework for success over the next few years."
According to the HR boss, there is no better testament to the success of an innovation strategy than the interest of young talent. As part of Ashurst's aim to lead the march to improve legal services innovation, he says the firm has introduced a new system to "embed innovation throughout the business".
"It is a collaborate process that is core to our values. We offer our people the opportunity to engage with new law and learn the skills which will be required for future legal practice now," Mr Knox says.
"We also take an innovative and agile approach to learning and development. The approach includes ensuring every staff member has a tailored approach to their development through opportunities including ongoing training, client secondments and inter-office transfers."
3 (tied)
Percentage: 14.50% Ranking: < 2016: 02
Gender split: Male 55.7% Female 44.30%
Eyes on Asia and focused on growth in the region, King & Wood Mallesons has maintained a hold in the top five most attractive firms, down one place since 2016. Sitting among the four most attractive firms, tied in third place, KWM enjoys a consistently strong reputation in Australia however the blue chip has weathered a tough 12 months on the global front.
This year long time managing partner of KWM Australia Sue Kench was picked to steer KWM's business as its global managing partner. Following the firm's financial turmoil in Europe, which unravelled last Christmas, Ms Kench led efforts to resurrect operations in the region. Her promotion has seen respected Brisbane partner Berkeley Cox take the reins as chief executive partner of KWM Australia.
According to Mr Cox, the KWM continues to attract legal talent because it is constantly re-evaluating what its lawyers want. This process is part of the firm's commitment to a culture of openness and "authentic conversations so everyone is clear about their career expectations and opportunities," Mr Cox says.
"We believe that by creating a highly engaged and diverse workforce we will deliver a better client experience, better business decisions and stronger firm-wide performance.
"Individuals are drawn to different things, however at a broad level we continue to attract top lawyers due to the quality and diversity of the people already here, the high calibre of clients and transactions we advise on, our genuine care for our clients, our international presence, our commitment to the community and our focus on innovation – all of which make KWM a special place."
3 (tied)
MinterEllison
Percentage: 14.50% Ranking: > 2016: 04
Gender split: Male 43.80% Female 56.20%
This international law firm has reinstated its third place post from 2015, sharing honours with KWM as a top three workplace of preference for Australian lawyers.
Minters punches above its weight for its size, publishing in its latest annual report that it acts for 70 per cent of all ASX50 companies. The top-tier firm posted revenue of $456 million for the 2015-16 financial year, up from $428 million in FY2014-15.
The firm also reported a record number of senior hires and promotions, including 23 new partners, 40 special counsel and 61 senior associates. This was the largest intake of new partners at Minters in more than two decades.
Commenting on the results, MinterEllison chief executive Tony Harrington AM added that the robust performance is reflected in strengthened client relationships, a focus on innovation and an enviable pipeline of mandates for domestic and offshore clients. 
"We have a clear goal: to be our clients' best partner by putting our clients at the centre of everything we do," Mr Harrington says.
"Put simply, we're thinking beyond the law. As clients look for better solutions to their problems, we are developing new service offerings that allow us to work with clients in non-traditional ways and that deliver fully integrated solutions, and we're embedding this approach into our firm's DNA."
The market value of M&A transactions that the firm advised on in FY16 hit about $15 billion and $42 billion for infrastructure projects in that same period.
2 
Allens
Percentage: 15% Ranking: > 2016: 03
Gender split: Male 48.10% Female 51.90%
This year Allens coasts into second place, up one spot from its 2016 Attraction Firm ranking.
Sydney-based director of people & development for Allens, Jane Lewis, says that beyond the obvious appeal of international opportunities which come with belonging to a global network, the firm is committed to staff development.
"People come to Allens knowing they will have the opportunities to become the best lawyer they can be," Ms Lewis says.
She notes that lawyers who join the firm understand they are signing up to be part of a business that works well with clients and the community. This tends to attract talent from all walks of life, bringing diversity into the workplace that enriches the firm's culture as well as its relationship with clients, Ms Lewis says.
"Along with their client work, our people are passionate about making a difference in the community. The significant opportunities our people have to use their skills to improve the world in which we live is one of Allens' great strengths as an employer.
"Our people bring a range of life experiences, strengths and perspectives that create our rich culture and see them working together to make a difference to our clients, the community and the environment."
Ms Lewis adds that with offices in Sydney, Melbourne, Brisbane and Perth, Allens has leveraged its strategic alliance with mega-law firm Linklaters to offer its lawyers the opportunity to take their careers to 39 different offices in 28 countries around the world.
"The constant threads in our ability to attract prospective employees are our work with market-leading companies, emerging brands and government bodies, and our commitment to developing our people."
1 
Percentage: 21% Ranking: 2015 and 2016: Unchanged
Gender split: Male 59.10% Female 40.90%
Herbert Smith Freehills has retained its top spot as the most desired place to work for local lawyers.
This is the third consecutive year the global giant dominated rankings as the most attractive law firm in Australia. In the past 12 months the global firm has been kicking goals across multijurisdictional borders, cementing its growing alternative legal services business as a practice group in its own right and opening new offices in Kuala Lumpur, Riyadh and Dusseldorf.
Sue Gilchrist, HSF's regional managing partner for Australia and Asia, attributes the firm's unbeatable employer brand to a long period of focused investment.
She says that HSF's strategy is a long game but also a simple one: talent attracts talent.
"When people choose to work with us, they're choosing to work alongside some of the best legal minds on some of the most exciting and challenging matters in the world," Ms Gilchrist says.
The popularity of HSF as a workplace of preference is evident, despite a well-publicised court battle earlier this year with eight partners who had defected for global competitor and new Australian market entrant White & Case. More than 20 per cent of respondents in the Momentum Intelligence survey nominated HSF as an attractive firm.
Ms Gilchrist points to the HSF's holistic ethos, which puts an emphasis on personal development and a culture of inclusion. Combined with what she describes as "world-class" opportunities at HSF, employees are offered training in mindfulness, inclusive leadership and unconscious bias.
"We truly are a fantastic place to work. People like coming here, they love the work they do, they are challenged, and they have opportunities to do the things that make them tick – personally and professionally."
Ms Gilchrist adds that the nature and scope of the matters that flow to the global monolith offers lawyers career-defining work, citing opportunities for international secondments and a hugely beneficial program which places HSF lawyers on the inside of client business as examples.
"This work keeps our lawyers at the top of their game and allows them to collaborate with other professionals working at the same exceptionally high standard.
"Our teams are relentlessly focused on delivering exceptional client service. Our people have opportunities everyday to genuinely add value – to the firm, to our clients and their businesses, and to the profession more broadly," Ms Gilchrist says.
The findings expressed in this feature were derived from the Lawyers Weekly/Momentum Intelligence Legal Firm of Choice Survey. To purchase a full copy of the report, please contact Andrew Scott on This email address is being protected from spambots. You need JavaScript enabled to view it. or 02 9922 3300.