Top 20 podcast episodes in 2020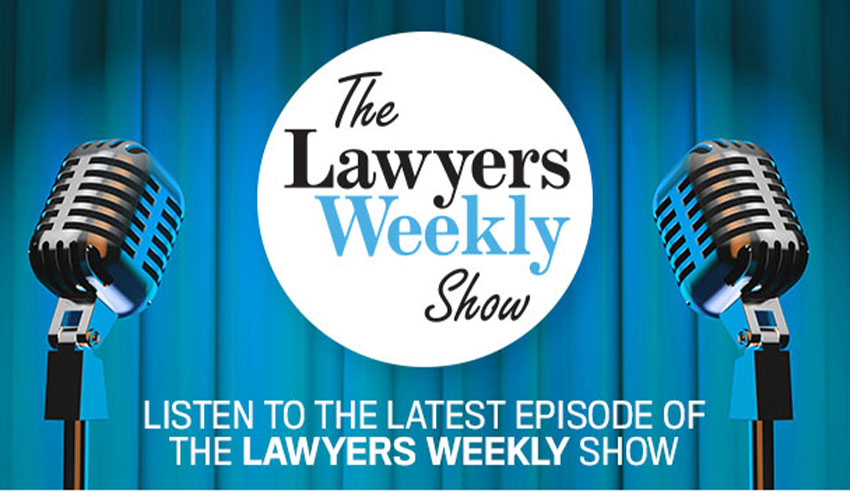 2020 saw extraordinary growth on The Lawyers Weekly Show. Here's what you listened to this year on our primary podcast stream.
This past year has seen The Lawyers Weekly Show hit new heights, with monthly downloads now regularly topping 20,000 per month. It has been a year like no other, and our audio content has subsequently been rich, diverse and illuminating in conjunction with such times.
Here, we count down the top 20 episodes for 2020, as per the rate of downloads by you, our dedicated audience!
Force majeure clauses to cover a global pandemic in commercial lease contracts were not widely considered until very recently, leaving many legal practices with large, empty offices and continuing rental obligations. Kai Schindlmayr and Holly Bailey from Kernel Property discuss which types of firms are suffering the most in this time, the strategies that law firms could implement to leverage available opportunities, and how commercial lease contracts can be adapted to be more flexible into the future.
The global chief executive of King & Wood Mallesons – and inaugural winner of The Lawyers Weekly Award at the 20th anniversary of the Australian Law Awards – joins us to discuss the unique set of challenges faced by law firms on the big end of town in the wake of COVID-19, the importance of striking a balance between immediate and longer-term strategies, and the opportunities that have risen out of the pandemic.
The prescriptive, dogmatic way in which legal professionals are trained to think ignores the critical role of emotion embedded into every aspect of the legal system. Here, Dr Senthorun Raj discusses the importance of emotional literacy in creating a more just and inclusive legal framework.
Health and wellbeing strategies in the professional services sector need to shift from a reactionary, first-aid response to more proactively tackling systemic issues. Herbert Smith Freehills head of diversity and inclusion Danielle Kelly joins the show to outline needed actions to better support and foster optimal wellness in big corporates.
In July, KPMG global head of legal services Stuart Fuller made 10 educated guesses about what the marketplace will look like after the age of coronavirus, and explained why the digital realm is so critical to legal businesses in navigating the challenges of this time and how legal practitioners can strike a good balance between client experience and digitisation.
Australian Bar Association president Matthew Howard SC discusses how the coronavirus crisis has affected barristers across the country, how well prepared the Bar was for remote working conditions, how the uptake of technology will provide increased access to justice in a post-pandemic world, what key learnings for barristers have come out of the current crisis, and why becoming a barrister should still be considered by emerging lawyers.
Australian Pro Bono Centre CEO Gabriela Christian-Hare joins the show to talk about the quantum of pro bono hours undertaken by our lawyers relative to the rest of the world, and how best legal professionals can get involved in pro bono work without causing detriment to their own practice and/or wellbeing. She joined the show again in September to discuss the vast increase in pro bono hours conducted by Australian lawyers this past year.
Even in such economically turbulent times, lawyers may still be better placed than most to secure home loans, by virtue of their professional standing. Legal Home Loans director of sales Cullen Hayne returns to the show to chat about marketplace trends in the wake of COVID-19, what they mean for lawyers looking to buy and/or sell property, and how they can respond.
In a groundbreaking study, Amelia Loughland discovered that the volume of interruptions faced by female judges on the High Court of Australia far exceeds that of their male counterparts. In this conversation, she comments on the nature of the interruptions, provides possible explanations for the discrepancy and suggests some potential strategies to help the profession overcome this imbalance.
Game Legal principal Mat Jessep spoke about the professionalisation of competitive video gaming, known as eSports, and how it has generated a burgeoning area of legal activity that spans across multiple practice areas.
International humanitarian lawyer and former war crimes prosecutor Rabia Siddique has led perhaps the most extraordinary life of any legal professional to appear on The Lawyers Weekly Show. Here, she outlines her experiences with racial discrimination, sexual abuse, becoming the prime target of a terrorist attack, fighting a legal battle with the British army and government, as well as her passion for bringing the values of ethics and humanity back to the foundations of the legal profession.
The age of coronavirus has resulted in a significant and dramatic transformation, which means that vocational pathways for legal professionals are also evolving. This means, Plexus associate commercial director Sam Burrett muses, there will be a plethora of new opportunities and work practices on the horizon for the next generation of leaders in law.
Ethics should – indeed, must – remain at the forefront of all legal practice. Here, Deloitte partner Deen Sanders and former NSW legal services commissioner Steve Mark spoke about the loss of humanity among lawyers and how best individuals and institutions can regain the humanistic streak that is so critical to service to the community around us.
In what is fast becoming one of the most consequential cases in Australian legal jurisprudence, former ACT attorney-general Bernard Collaery is currently facing conspiracy charges. Here, he discusses the foreign interference laws that led to his prosecution and why he thinks Australia is on a dangerous path.
With the legal educational experience evolving so rapidly, it is important to understand how and why students do not turn up for in-person learning as much anymore. University of Western Australia adjunct research fellow Liam Elphick joined us to talk about how universities can adapt to improve the learning of future lawyers.
McCullough Robertson partner Amber Sharp joined the show to discuss the annualised salary provisions that came into effect in March of this year, why such changes were set to be detrimental for legal businesses and how law firms should manage such new rules.
Recorded live from Chicago, Lawyers Weekly director Will Magee sat down with KordaMentha executive director Grant Whiteley and partner and head of forensic technology Andrew Malarkey to chat about the advent of legal tech in Australia relative to the rest of the world and why the human element is still so critical in legal practice.
Becoming a partner at a young age is not unattainable. Here, Marque Lawyers' newest partner, Kiera Peacock, discusses how she reached this milestone by the age of 32, the advocacy opportunities she's taken advantage of, and why being part of a firm that reflects your values is so critical to professional success and development.
Resolution123 founder and principal Carly Stebbing outlined the potential pitfalls of signing up for sites like Tinder or eHarmony, and how lawyers can and should be conducting themselves on such platforms, lest they run afoul of their employment obligations.
Here, Lawyers Weekly journalist Naomi Neilson and editor Emma Ryan dive deep into the Victorian inquiry into Informant 3838, aka barrister Nicola Gobbo, and her dealings with Victorian Police and how her collaboration with authorities impacted upon access to justice for convicted criminals.