The Lawyers Weekly Show: Top 15 episodes of all time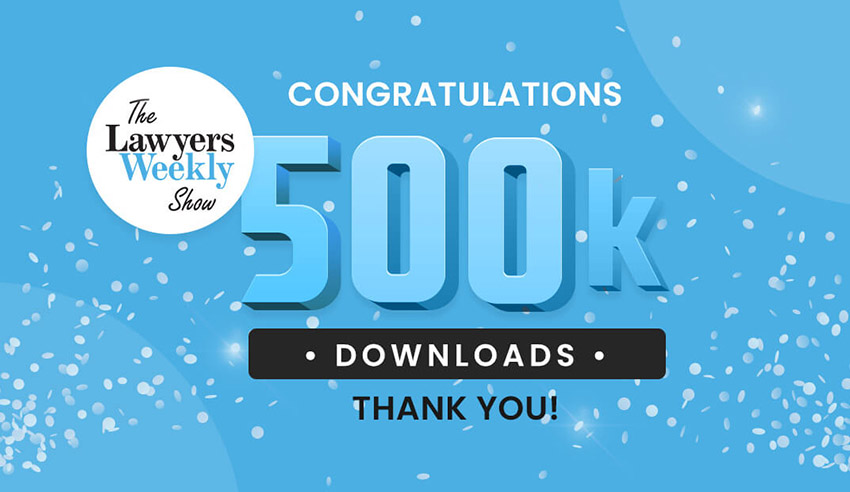 The Lawyers Weekly Show has just surpassed 500,00 downloads, and is one of the most popular careers podcasts in Australia. Here, we look back at the 15 most-downloaded episodes since the show's inception in late 2017.
Here, Priya Serrao – who was crowned Miss Universe Australia in 2019 and now works as a policy adviser for the Victorian government – talked about how, as a soon-to-be solicitor, she came to enter her first-ever modelling competition, her vision to use her public platform to advocate issues she is passionate about (including but not limited to diversity), how she balanced work in the legal profession in the lead-up to the prominent modelling competition, and her thoughts on why law students and lawyers should explore creative avenues outside of study and practice.
Australia's defamation laws were a source of ongoing debate when this episode aired two years ago, and the words of Marque Lawyers managing partner Michael Bradley are as pertinent today as they were then. Here, Mr Bradley discussed the emergence of the #MeToo and #TimesUp movements as bringing allegations of sexual harassment, assault and bullying into the public fore and painting a new picture of defamation law in Australia, highlighting the need for law reform in relation to such misconduct and criminal behaviour in order to better level the playing field for victims.
Governance has been front and centre since the onset of COVID-19, and in the new normal, such considerations will only become more prominent. In this practical and insightful discussion, Governance Institute of Australia chief executive Megan Motto outlined the challenges and issues company secretaries are facing, what makes a good company secretary and how the ability to understand personality and behaviours will play in one's favour.
In what is emerging as an evergreen topic in the age of social media, Resolution123 founder and principal Carly Stebbing outlined the potential pitfalls of signing up for sites like Tinder or eHarmony, and how lawyers can and should be conducting themselves on such platforms, lest they run afoul of their employment obligations.
In the wake of the findings of the 2019 Legal Firm of Choice Survey, Momentum Intelligence head of research Michael Johnson came on the show to talk about satisfaction levels, or lack thereof, among emerging practitioners. He reflected on the attitudes, perceptions and priorities of legal professionals and, in unveiling younger practitioners (i.e., those with one to three years of experience) as the least satisfied demographic, he explained the possible contributing factors for such dissatisfaction and suggested proactive measures that firms can and should be taking to help those coming through the ranks to remain satisfied throughout their legal career.
In what was the most-downloaded episode of 2020, Lawyers Weekly journalist Naomi Neilson and editor Emma Ryan got into the weeds of the Victorian inquiry into Informer 3838, aka barrister Nicola Gobbo, and her dealings with Victorian Police and how her collaboration with authorities impacted upon access to justice for convicted criminals.
In a precursor episode to the immensely popular Protégé Podcast, Temple & Webster head of legal Jessie Porteus, who is also the founder of legal training business The Learned Crew, detailed how to navigate one's legal educational journey and stressed the importance of planning and strategy, in a landscape that is rapidly changing, what with technological advancement, modern methods of service delivery and new and exciting vocational opportunities on the horizon.
Managing one's finances is fundamentally important, and especially so at a time when economic turbulence and market uncertainty are a constant. In this practical and informative discussion for those coming through the ranks, SkilledSmart founder and law graduate Paridhi Jain outlined how the next generation of lawyers can better set themselves up financially so that they may not only be more on top of their own lives, but be better, more successful lawyers as a result.
Following research from Deloitte revealing the volume of unpaid work being undertaken by women across the board, Jane Needham SC – who is also the former president of the NSW Bar Association – joined the show to speak about the myriad issues facing females in Australia's legal profession, reflecting on her own journey in law, what life is like at the Bar for women, and what more the profession at large can be doing to address the inequalities faced by women, both in the workplace and outside of it.
Becoming a partner at a young age is not unattainable. Here, Marque Lawyers partner Kiera Peacock discussed how she reached this milestone by the age of 32, the advocacy opportunities she's taken advantage of, and why being part of a firm that reflects your values is so critical to professional success and development. This conversation is a must-listen for any emerging leader hoping to set themselves apart in a post-pandemic marketplace!
Just as The Corporate Counsel Show was launched, this episode was published, in which non-executive director and former general counsel Claire Bibby and SmartWomen Connect founder Fiona Craig discussed the issues and challenges facing corporate counsel, navigating technological change, evolution in collaborative relationships with BigLaw and boutique firms, necessary upskilling and vocational considerations for all lawyers, young and old.
There is a proliferation of emerging legal practitioners leaving firms to start up their own shops, particularly with the marketplace having been turned on its head in the past year. Here, Viridian Lawyers director Richard Prangell and Kinny Legal solicitor director Jessica Kinny spoke about their vocational journeys in leaving their respective firms to start boutique practices, why sole practice was an appealing pathway, and how young lawyers can do the same.
In what was the first of a series of annual episodes with Governance Institute of Australia, a panel of experts – Catherine Maxwell FGIA (executive manager, policy and advocacy at Governance Institute), Dr Deen Sanders OAM (partner, Deloitte) and Rosemary Sainty FGIA (academic, UTS Business School) – unpacked the results of the Ethics Index and how legal professionals compare to those in other industries, and what lawyers can do in response to such findings.
In one of the more out-there conversations (literally) in the history of the show, Dr Stefan Paterson joined to explore the final frontier of space and all its legislative and regulatory hurdles. He mused that simple intellectual property and patenting matters in space extend much further into cross-border disputes, mining rights and even military concerns, and such considerations will remain an ongoing debate, with so much international legislation in this area still to be determined.
The most-downloaded episode in the history of The Lawyers Weekly Show is a conversation with award-winning, Darwin-based barrister Matthew Littlejohn, in which he shared the issues, challenges and opportunities he has faced in his career as a barrister so far, why it's imperative to identify when you need help, and his advice for graduates coming through the ranks if they are thinking of joining the Bar. He also discussed why he uses social media to promote his chambers, how he navigates the need for social interaction at work and how barristers need to ensure they are looking after themselves in regard to mental health.
Are you looking to launch your own practice but not sure where to start? Lawyers Weekly's Boutique Law Summit returns to Sydney this month, designed for individuals who are looking to maximise their competitive edge in a post-pandemic marketplace. The event will be held on Friday, 26 March at the Four Seasons Hotel with a full agenda available to view here. To learn more about the event, click here.