Top 10 stories for young lawyers: Allegations, dismissals and underpayments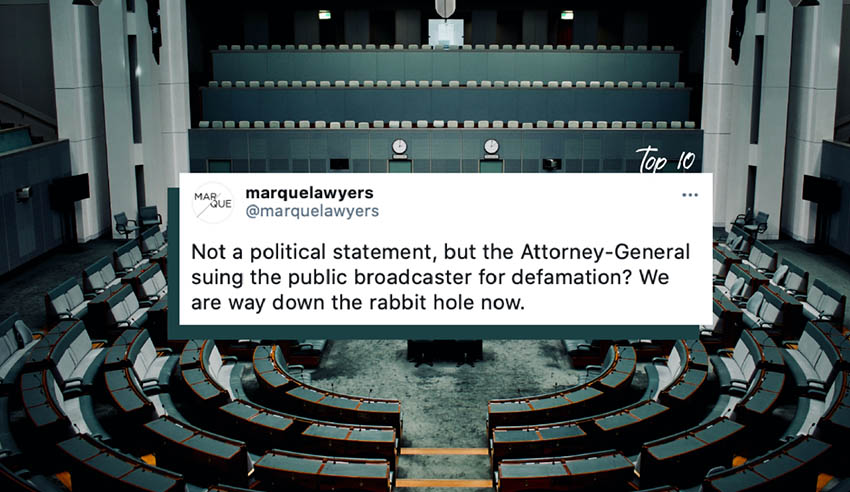 There is a lot to unpack from the last fortnight of news and not a lot of it good. In this Protégé wrap-up, we are bringing law students, graduates and other young lawyers the highlights that will probably come up in the next lecture or water cooler chat. 
1: Porter's confusion around basic legal concepts 'regrettable', lawyer says
In case you have somehow missed the biggest news in the legal profession, federal Attorney-General Christian Porter has strenuously denied raping a girl when they were both teenagers some 30 years ago. Since then, his "regrettable" legal language has made the rounds (and has been criticised by lawyers), he has launched legal proceedings against the ABC for defamation and the NSW Bar has weighed in. Oh, and some of his normal functions will be out of reach when he returns to work. 
2: Fresh details emerge on Kimmitt exit
In what may be the biggest fallout from Mr Porter's allegations, MinterEllison chief executive has been pushed out from the firm after emailing staff that she was disappointed the high-profile firm had taken him on as a client. It has sparked a lot of controversy across the profession, with some in her favour and others against the email entirely. 
3: Clayton Utz responds to underpayment reports
Major firm Clayton Utz has responded to reports that it underpaid graduate lawyers, some by thousands of dollars. It has followed on from numerous reports that graduates from several BigLaw firms have had a good few thousands missing from their own pay cheque over the last year. 
4: Clifford Chance makes 5% bonus payment to all staff
In a complete 180 from the above, global firm Clifford Chance has followed in the steps of Herbert Smith Freehills in pledging to remunerate staff with a one-off bonus payment valued at 5 per cent of their total salary. The firm said it is in recognition of its staff going the "extra mile" during the global pandemic. 
5: Solicitor jailed for 10 years for misappropriating millions meant for charities
Moving back over to the negative news of the fortnight, a Sydney-based solicitor has been jailed for 10 years for misappropriating more than $6 million that was meant for several charities. The misappropriation happened over a number of years and followed the deaths of two of his clients who had left him in charge of the legal side of distributing a portion of their estates to organisations in need. 
6: 'Impediments to the retention and career progression of women in the profession remain'
The new president of the Law Society of NSW, Juliana Warner, has weighed in on gender equality following International Women's Day and acknowledged that while improvements have undoubtedly been seen across the profession, there is still a long way to go before women are given the same opportunities as men. 
7: Vic Bar withdraws financial support from peak legal body
In what may have come as a shock to the Victorian legal community, barristers across the state learnt by way of email that their legal association was no longer financially affiliated with the Law Council of Australia. President Christopher Blanden QC explained the withdrawal happened after talks between the two collapsed.
8: High-profile defamation proceedings continue
Defamation proceedings between high-profile Sydney lawyer Christopher Murphy and News Corp subsidiary The Daily Telegraph are ongoing following allegations made to the Federal Court that an article had a "nasty tone" when it depicted the lawyer's inability to attend court. The decision has been reserved for now. 
9: Tasmanian commission into child sexual abuse formally established
An inquiry examining the Tasmanian government's response to allegations and incidents of child sexual abuse in institutional contexts has been formally established and will draw expert advice from federal judges and high-profile commissioners, such as the Honourable Marcia Neave AO who is no stranger to commissions. 
10: Therapy dogs return to duty in NSW courts
Ending with some really great (and super cute) news, NSW Attorney-General Mark Speakman announced that therapy Labrador dogs will be returning to the courtroom to soothe children and other vulnerable witnesses while they give evidence.