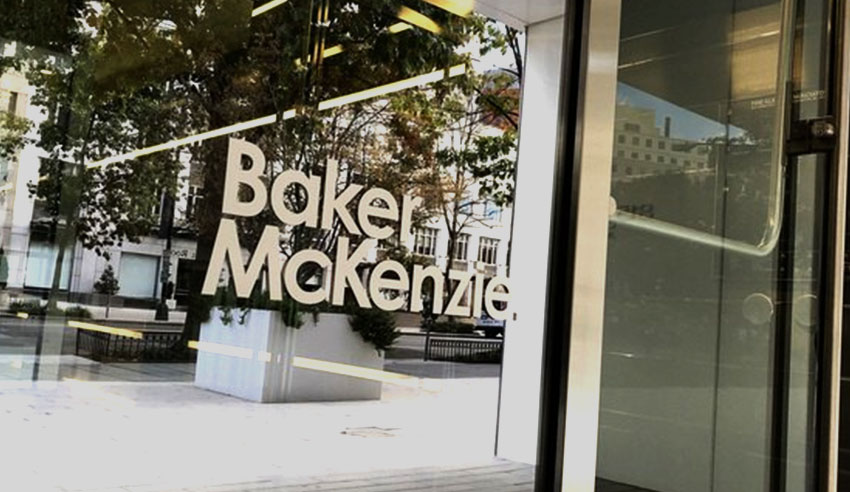 Global law firm Baker McKenzie has named five new partners, nine new special counsel and 14 new senior associates, with two partners and two special counsel currently on parental leave.
Editor's note: This story originally noted that there were 27 promotions, with eight new special counsel. It has been updated to reflect that there are nine new special counsel, and 28 promoted lawyers overall.
The promotions are effective as of today (1 July 2022).
The five new partners are Alan Darwin, Tharani Dharmaraj, Liam Hickey, Brigid Maher and Caitlin Whale. These five form part of a global promotions round of 75 partners in the firm's offices worldwide.
The nine new special counsel are Dean Bao, Matthew Bliem, Jarrod Bayliss-McCulloch, Michael Diston, Jayme-Lyn Hendriks, Rani Narulla, Andrew Prowse, Chantal Savage and Edwina Tidmarsh.
And the 14 new senior associates are Gareth Austin, Rowena Baer, Josh Baldacchino, Kristen Centorame, Cal Dioluin, Joshua Donald, Carmel Foley, Sid Jones, Hank Jong, Jeffrey Leung, Amye McArthur, Rachel McNally, Alanna Rennie and Jake Spain.
The promotions, Bakers' Australian national managing partner Anthony Foley said, highlight the depth of talent at the global firm.
"These promotions are a result of our success in helping clients navigate complex challenges which include: energy transition and decarbonisation, digital transformation, sustainability, workforce redesign, supply chain disruption and strategic transactions that continue to grow their businesses," he proclaimed.
The firm is also proud, Mr Foley added, to promote two partners and two special counsel at a time when they are currently away on parental leave.
"It's critical that we continue to support our people as they progress in their careers during this period and for them to know that it will not set them back in their path to success," he said.
Anne-Marie Allgrove, who chairs the firm's inclusion and diversity committee, supported Mr Foley's comments, noting that "not only are we thrilled to have such outstanding talent to promote but we are also proud that three of the promotions are men who are either currently on parental leave or recently returned from parental leave".
"We have worked hard to encourage our men at all levels within the firm to take parental leave as we know that it is not only good for them but it is critical in the journey to true equity for all within the firm," she said.
Last month, Bakers unveiled a 26-week paid parental week leave policy, up from the firm's previous 18-week allowance, including superannuation contributions to be paid on unpaid leave up to 52 weeks.
This news follows a number of BigLaw promotional rounds, including MinterEllison promoting 113 professionals, Herbert Smith Freehills naming 56 new senior associates, Allens promoting 79, KWM promoting 90, HopgoodGanim elevating 27, Thomson Geer elevating 31, twenty new appointments at Barry.Nilsson., a "record" number of promotions at global law firm Dentons, 46 new appointments with four partner appointments at Holding Redlich, the promotion of 46 at Hall & Wilcox, the elevation of 48 staff at Mills Oakley, the promotion of 21 at Piper Alderman and the addition of 13 new partners at King & Wood Mallesons.